A Visit to the Yarn Shop
I got a call yesterday from Eileen at my LYS,
Meadowfarm Yarn Studio
, to let me know that my Trio order had arrived. This was much sooner than either she or I expected, but I still had to run down there and get it after work this afternoon. I also scoped out the place to see if I could come up with a good combination to make the Red Isis Stole in Knitting Goddess... I couldn't resist the hand-dyed Mountain Colors alpaca blend in deep reds as my base thread, and found an eyelash called Dazzlelash in bright red, as well as two different ribbon yarns in sparkly reds. I was a little stumped on the last of the threads... the pattern originally called for a DK weight choice, and there just wasn't something to match, but I decided to take a chance on a coral-colored boucle that had a very soft hand and worked well with the alpaca... for a piece such as this, I don't think the slight size difference will make a problem. This stole will be somewhat loose-woven, made up on size 15 needles, with double stranding to include the various yarns alongside the main color. I can't wait!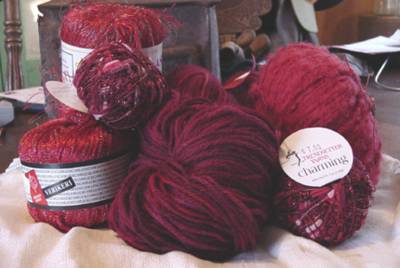 Yarn store purchases

A whole package of Trio waiting to be knitted into a bolero