Our epic trip to Death Valley
We left for our vacation on December 25th,a few hours after everyone else in the family had departed their various ways, and spent the first night in Yerington, Nevada. I had hoped to find the fellow with lots of donkeys at a trailer park, who sponsors the
Weed Heights Donkey Days and Donkey Baseball Tournament
each year, but didn't suceed and we wanted to be on our way as our goal was to be in Beatty by nightfall and enter Death Valley National Park the next morning.
On the way out of Yerington, we had to stop for a few photo ops...
Glenn just loved this old plane, parked at the Yerington airport.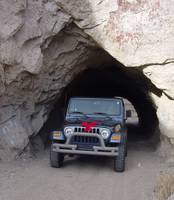 This is an old highway tunnel, paralleling Nevada Highway 95, just south of Yerington

We made good time but the weather grew increasingly cloudy. We got to Beatty by 4:00 PM, in time to visit the Park Interpretive Center, buy our week-long pass, and a terrific guidebook to pore over (
The Explorer's Guide to Death Valley National Park
, by T. Scott Bryan and Bettey Tucker-Bryan).
We ate at the
Exchange Club
, one of the oldest buildings still standing in Beatty, and had the good fortune to stop at their bar for a beer first. There, we met the bartender, Jim, who had moved to Beatty in his retirement because he just loved the history of the place. Of course, after we ate, we had to return and pick his brain. He told us of a few more obscure ghost towns and how to get there, as well as where to go to view wild burros, which he said were also making their way into town regularly, now that the weather was so cold and other areas closed off to them by snow.
The next morning, I walked around the town for about an hour, hoping to see some wild burros close up, but without any luck. We headed out to an area south of town, near the airstrip, and did see two wild ones.
Then, we headed five miles north and visited the site of Pioneer, an early mining boom town long gone.
We found this garbage pile of green glass at Pioneer.

On our way into the park, we stopped at Rhyolite, one of the more famous Western ghost towns, perhaps because its railroad station is still standing and is such a distinctive building. It is also famous for a great example of a bottle house (walls are bottles stacked on their sides with adobe chinked in between).
http://www.beattynevada.org/beattycentennial/rhyolite.html
http://www.nps.gov/deva/Rhyolite2.htm
We crossed over the summit and could finally see Death Valley stretching out before us, and were simply awestruck by the vastness of the place. It is desolate and empty, and of course, teeming with life... but we didn't see much in the way of plant life. The storms that hit the next day will produce a showy bloom of wildflowers in the coming week, but we will miss it. We drove through the small resort communities of Furnace Creek and Stovepipe Wells, and decided that camping in either place would be too civilized. We did stop at the main Interpretive Center in Furnace Creek, where we learned a lot about the geology and history of the region, as well as viewed startling photos of damage done by flash flooding on August 16, 2004. Those photos would serve us well later, when the rains started.
We spent quite a bit of time in the late afternoon winding our way up Emigrant Canyon, which had magnificant, colorful formations. We looked for a few old ghost towns on the map, but mainly ruled out camping in that area, as the campsites that were far enough above the washes were also at about 5,000 feet elevation, too cold for this time of year. We headed back to Stovepipe Wells and ten miles across the Valley floor, then up Cottonwood Canyon, where we camped at dark. It was so silent there that Glenn could hear the bubbles popping in an opened bottle of beer, and I could hear the blood whooshing in my ears. We weren't that easy about the spot though, as the clouds thickened, and moved about midnight to a high point overlooking the Valley floor, where we could see the lights of Stovepipe Wells, ten miles away, but knew we would be safe if the rains got heavy. Smart move in the end, as it sprinkled through the night, and then a real downpour started about 7 A.M. We were warm and cozy in our little tent, but decided that we could forego cooking a breakfast, foraging on the various snack items we had while we packed up our gear, then headed back to Stovepipe Wells, and up to Scotty's Castle for the day, figuring a tour in a dry building would be a bright idea, considering the weather, which we (at that point) assumed would be short-lived. Turns out, it stormed the rest of the week!
Glenn waves from the Jeep as we work our way towards Scotty's Castle over partially flooded roads

Flooding on Death Valley floor; 28 December 2004

Scotty's Castle in the snow; 28 December 2004

More views of Scotty's Castle in the snow...
Snow on the palm trees

Courtyard

Picnic area

For more information about Scotty's Castle, visit the
National Park Service website
After being forced out of Death Valley by the flooding, we spent the night on Tuesday 12/28 in Beatty once again, then headed north on Nevada Highway 95. We stopped in Goldfield to get some photos. We were surprised to see it had snowed eight inches since we had been there just three days before.
Goldfield Courthouse, now abandoned

Goldfield Hotel side view

The Goldfield Hotel has been abandoned for many years, but was purchased at a tax sale in August 2003, and moderate renovation is underway in attempts to reopen this once-sumptuous building. This article from the Wall Street Journal last month details the plans:
http://www.realestatejournal.com/regionalnews/west/20041215-anders.html
We continued to Tonopah, where we stopped to visit the county museum. The weather was gray and it had snowed about eight inches overnight - we were probably the museum's only visitors that day. That is where I found the only burro museum exhibit we have ever come across (and we are dedicated hole-in-the-wall museum visitors), and you can view "Tribute to a Burro" in a separate post.
We decided to head north over Highway 6 to Ely, which is about the emptiest road we traveled during the entire trip. We stopped at Warm Springs, about half-way between Tonopah and Ely, where we spotted this awesome stone corral. My chewing burros would be stymied!

The sun was out but the wind was cold. The Warm Springs resort looked abandoned for several years but the swimming pool fence had been neatly cut open and folded back and obviously continued to host bathers. There is about a quarter-mile trench winding downhill from the spring's source itself to the small swimming pool. We hiked up to the source, but it was too hot to enter.

We arrived in Ely after dark (which isn't really saying much this time of year, when sunset is around 4:30 P.M.!) and decided to stay at the
Hotel Nevada
, a six-story antique structure right downtown, which has been lovingly restored over the past ten years and still had the cheapest rooms we found on our whole trip ($29.99 for a room with double bed, antiques and a view of the snowy hillside). The casino down below was hopping, but not so noisy that we could hear it up there on the top floor.
Our main stop in Ely the next day was a lengthy tour of the
Nevada Northern Railway
and adjacent Museum. The folks there were very helpful and generous in sharing their time with us, even though it was off-season, and holiday week.
Locomotive being serviced at the Northern Nevada Railroad Museum in Ely

The other fascinating thing about Ely was all of the large
murals
decorating the downtown area, and depicting aspects of Ely's history and culture. There must have been at least a dozen, the work of the Ely Renaissance Society. My favorite was of a Basque sheedherder and flock. While driving around the side streets, we stumbled upon a very old (as in 1900 era) motor court of cabins that is being rehabilitated into an arts education center by the Society.


The weather was getting colder and windier by the moment, and we were somewhat concerned about the incoming storms predicted and how long it might take to cross the state, so on Thursday afternoon, we headed to Eureka, arriving at our now-traditional hour of dusk. Eureka looks like a pretty interesting place, with lots of cool historic buildings, a year-round indoor swimming facility and a few hotel-casinos, but it was so cold that we didn't even want to DRIVE our way around the walking tour. We ate at the Owl Bar and Restaurant across from our motel, and also had a beer at the local Clamper bar (which was a real dive, unfortunately), and then headed for the warmth of our room. We watched periodically as snow swirled around outside our window and it appeared that the street lamp would blow over, but there was not a signifant accumulation of snow when we arose Friday morning. The conditions looked bad though, and we knew that we wouldn't be making it to a party in Downieville that night.

We headed off to Austin in a snowstorm, taking about twice as long as normal to get there. We sure didn't envy the one little 2-wheel drive car we passed, as we drove consistently over roads covered with at least an inch of snow, and blowing winds of snow severely reducing visibility. We were happy to stop in Austin for a late breakfast, where we were met with about two feet of snow. We also stopped off at the rock shop we had visited last spring, looking for garnets and joking with the owner about how there was just too much snow to pick up any garnets at the area noted for them outside of Ely. I found a few garnet geodes to take home and also bought a bracelet with seven different types of stone set in it. It was a respite from the storm, but we had to get going again, so headed for Fallon.... 110 miles away. We were happy to see the weather steadily improve.

Between Fallon and Fernley, we happened upon Gateway Antiques, where we purchased an antique burro pack saddle to display in the Forest City Museum, and a copy of Loafing Along Death Valley Trails, by William Caruthers, published in 1951. This used book is a real gem, and I did locate a copy through Amazon's used book service, if anyone is interested.

One thing that I would like to go back and try is sandboarding...