Mountain Child
A Special Anniversary
Today is my oldest child's 27th birthday, so I wanted to share a little about Cody.
When Cody was born twenty-seven years ago, he arrived at home, after 27 hours of labor, with the assistance of a wonderful midwife and my bestest friend, Laura. For some reason, he needed to cry a whole bunch the first eight weeks or so of his life, but has possessed a generally sunny disposition ever since.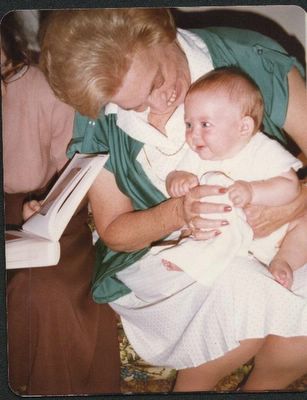 Cody at three months old, being held by my mother, Claire. He was my parents' first grandchild, and luckily for my father, arrived about seven years before he began to develop Alzheimers. Cody is the only one of five grandchildren who actually remembers what a fun and loving Grandpa my father was. Cody got to be the only child for four and a half years, and was very close to both his dad and me... among other adventures during that time period, we lived on a goat farm for a brief span milking 100 goats on the evening shift together, and I worked at the Northern California Renaissance Faire for a season, camping the long weekends during the Faire and exploring the North Coast on our time off.
Cody at preschool in Sacramento, where he attended the "older kids" school while I worked at the infant center and was pregnant with his sis, Nikki.
Sweet smile
On his fifth birthday
I rode everywhere on a bicycle, pulling Cody in a trailer behind, and his father was a bicycle messenger, so it is little wonder that he took to wheels as soon as humanly possible. He is most likely a kinesthetic learner, and although a gifted student going through school, was also involved in a variety of sports, excelling at basketball, golf and snowboarding by high school.
Busting a move at age five
This interest in sports led to his attending Sierra Nevada College following high school graduation, where he majored in Business, through their specialized Ski Resort Management program, completing three years before deciding to quit school in order to better support himself. I have never been very well-off financially, and didn't even have a job with health benefits until Cody, the oldest, entered college, so he and my other children have had to work their own way through school, with limited financial help from us.
Cody has turned into a wonderful adult: he is gregarious, polite, humorous, loveable, a hard worker, kind, and the person his friends come to when they need to know they have a friend. He inspired me when he was hospitalized nine months ago after a serious accident, by thanking everyone who assisted him, and taking the time to look at their name tags or ask their names, and then address each one by name... the hospitality industry is sure good training for life.
His usual, happy-go-lucky self
Cody decided to return to college when his lil' sis announced she would be transferring to Chico in order to continue working towards her Bachelors degree in Human Development. They have been sharing an apartment since August, and are the best of friends and a huge amount of fun to be with. He has sustained her through leaving home and moving to a far more urbanized area, and she has encouraged him when he has gotten homesick for Lake Tahoe, where he lived the past eight years, as well as helped him get focused on what he wants to study and work towards next in life.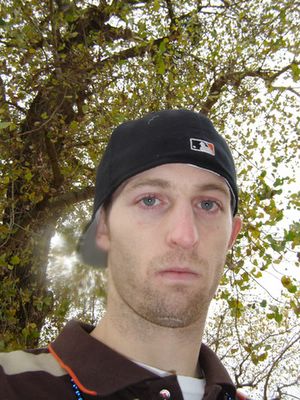 This is a "serious" self-portrait Cody took a few months ago. It is always sobering to be redefining yourself, and I have shared with him what it has been like for me, and have tried to be there for him when his courage falters.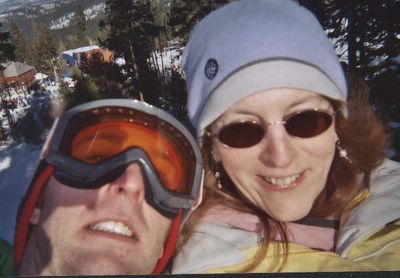 The two of us on a lift at Alpine Meadows last year. I am really grateful to be so close to this wonderful son of mine.
Other Matters
Jenn
tagged me with this interesting meme, which I decided to give a try (although Sallee also tagged me with another one while I was sick, that I will wait to post till next week):

4 jobs you have had in your life
High school teacher
Outdoor guide for youth program for eight summers till 2005
Goat milker for only five weeks; it killed my hands to milk 50 goats a night
Mom, for going on 27 years
4 movies you could watch over & over
Pirates of the Caribbean
Something's Eating Gilbert Grape
Shakespeare in Love
Star Wars

4 places you have lived
Forest City, CA
Talent, OR
Lake Tahoe, CA
Sacramento, CA (yup, I started out as a big city girl)
4 TV shows you love to watch
King of the Hill
Southpark
Mosaic
Deadwood
4 places you have been on vacation
Death Valley
Niagra Falls and western New York
Yosemite - both the Valley and backpacking in the high country
Seaside and Cannon Beach, OR
4 websites you visit daily
Weather.com
zeneedle.typepad.com
Yahoo.com (and associated lists I am on)
my own (vain, huh?)
4 of your favorite foods
dark chocolate
basil pesto
fresh squeezed orange juice
chicken apple sausage
4 places you would rather be right now
a warm beach
Salt Lake City, visiting my brother in law, Margene, and the slopes for killer boarding
my other house, in snowy Forest City, with the woodstove going
On a $10,000 shopping spree won from my local radio station and spent at a wool festival
4 bloggers you are tagging
Sallee
Carole
Stacie
Teyla
For those of you wondering where my weekly Product Review is, is has been postponed until tomorrow, in honor of writing about Cody on his birthday... and will feature something alpaca, so come back by. In the more-than-I-needed-to-know department, I am actually trying to figure out what Bloglines is, and how it can help me be a better Blogger (grin).