Spring Cleaning
Look, it really IS spring!
After spending half of the day doing Saturday errands, which included filling up with the cheapest gas we could find (ouch) and buying the most expensive load of grass hay to date (direct corollary there, no doubt), we headed home yesterday to tackle some spring cleaning, which has spilled over into today as well.
One purchase I made was a tub to store records for the children's center business that changed hands a few months back. As I moved the records from paper bags into the tub, I also moved around some other items in the room that has served us as storage for several years. The cute DH got the urge to rearrange, since he has long yearned to turn this room into a genuine guest room.
Here are the results of yesterday's labors. We bought the air bed just before Christmas, as we had slept on one at some friends' and discovered they were much more comfortable as well as easier to move around than fold-out couches. The highback chair was my great-grandmother's, reupholstered in the late 1970s by my dad. The red flowers on the floor are actual 1930s linoleum (that DH, he collects all kinds of things!). Just out of the photo on the right is a little desk I used as a girl, given to me by my great aunt. A sentimental room, all in all.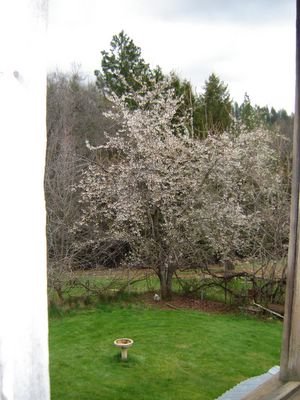 The best part is the view out the attic window of our inner yard, lush from all that rain, and the large cherry treen in full bloom. Beyond the fence is a thin dirt drive leading down to a classic 1930s cabin on our property, and beyond is donkey pasture. While trying out the chair and the view yesterday evening, I looked out just in time to see six deer sproinging their way through the pasture and sailing over fences to get away from the big, scary donkeys they had met up with, coming from the wide open spaces of the rolling hills just beyond your view here.
Cleaning has led to more items to post on the DestashAlong site, and I also have made significant progress on the ruana over the past several days.
Teresa
pointed out that I had said I was making it 45 feet wide; luckily that was just a typo, or I would never finish in this lifetime!
Mary
suggested that I try the Fibonacci sequence in my striping and I have been enjoying that; I now have about 10 inches on the first half done.
Sallee
asked about measurements; this pattern is from
Folk Shawls
by Cheryl Oberle, and I decided that I wanted a ruana that would hit me at the knees, rather than close to floor length as in the photo in the book (how tall IS that model? was my first thought....). Following the formula in the book, which includes calculating for 14 inches of fringe to be trimmed up to 10 inches when completed, my version will be 70 inches wide, draping over me front and back, resulting in my casting on 161 stitches on size 9 needles (keep in mind that I usually drop down one size from most people).
This project with all its varieties of yarns pretty much ties me to my knitting chair
shown here. I need to have the quilt ruler to measure out 14 inches before attaching each new yarn, the scissors to cut loose the old, and tie the fringes together before proceeding with each new stripe. A nice project for evenings at home.
Thanks for all the congratulations on my 300th post and compliments on the boots. You will all be happy to know that I have gotten to wear them quite a bit already and being rubber, they are flexible and the mud washes right off!
I sure hope that spring is blessing you and yours more than it has California this year; it has been grey and a bit rainy all weekend. I am off to a job interview tomorrow afternoon, teaching GED students, something I hadn't pictured myself doing. However, I just finished my assignments for my writing class this weekend, and can say that I have a new appreciation for inspiring others to bring out their stories through their writings. I will be writing regular posts for a new group blog that will be part of the Eat Local Challenge this spring, and so will
Liz
; details to follow once the site is up and running.
I will be posting the winner of the 300th post sock yarn tomorrow, and
Vicki
is having a contest to win a copy of
Mason-Dixon Knitting
, so hurry over and enter before tomorrow. I found out just after I ordered a copy and some Knitpicks yarn to dye for Dye-O-Rama, so you have better odds of winning without me in there, hee hee.