Road Trip
These words have always been music to my ears. Maybe it's from growing up in the West, where there are big expanses to be covered if you are even going to be able to say you've been to another state. I just love throwing a few necessities in the car and taking off to see what lies ahead. For the past twenty years or so, I have preferred the backcountry to the interstate, but either way, driving into other peoples' towns, getting to peek into their back yards, see different kinds of skies, and watch for rivers and wildlife has given me some of my peak moments. As an environmentalist, I have had a bit of guilt here and there; I have been working on a little piece of writing entitled "The Conundrum of Travel" which will appear later, but for now, let me share my travels to Estes Park and back with you.
My journey started with a two hour drive to the Reno airport and a short flight to Salt Lake City. The elderly gentleman seated next to me was totally fascinated by the two circs knitting socks, and couldn't figure out what I was making. We conversed much of the journey, and it turned out he had been a paratrooper in World War II, making 17 jumps into Germany near the end of the war. He also had lived in Salt Lake City many years and was returning for a family reunion, so proved to be a great tour guide as we descended to the airport.
It was much more hectic there than in Reno, and I phoned
Margene
, who told me where to meet her and
Carole
, who had arrived about 45 minutes ahead of me.... I wasn't sure I would be able to find them, but there they were, smiling and waiting at the bottom of the stairs to baggage claim. One of the great things about bloggers is that they can recognize each other and don't need to stand, looking embarassed holding stiff cardboard signs saying "Sundstrom" or some other such nonsense... instead we were all hugging instantly.
Our first stop was The Wool Cabin, where Margene had promised I would be able to get some Trekking yarn, not available near me, so that I and my sock could trek together to Estes Park and back.
I was starved, having missed lunch, and got to have a snack at Margene's, but she had arranged for a dinner with Susan, Margene's husband Smith and friend Camille (a photo is
here
). Of course, we dressed for the occasion, with me wearing my Mountain Stream for Susan to see, Carole wearing her just-off-the-needles Flower Basket Shawl, and Margene wearing...
We all got up before the crack of dawn (really, it wasn't as hard as it sounds - we were pretty excited), rounded up
Anne
, then met a carload of the Utah grrls...
Mim
, who bounded out to hug us all,
Laurie
,
Michaele
who was behind the wheel, and Karen (blogless but found at
Sleeping Dragon
). We were transferring luggage and that was the last we saw of them until evening, as they made much better time and didn't get caught in a huge snarl of bad directions and roadwork adventures in Loveland, where we met Cathy, who stole Anne away, to meet up with us on Saturday.
The other knit bloggers sharing the lodgings that Margene had located for us (right downtown, in spite of the cruddy MapQuest directions) were greatly relieved to see us - more hugs all around and lots of laughing and knitting before walking downtown for dinner.
Margene,
Stephanie
and Carole trying to decide what to order.
Michaele takes a photo of the Mile High grrls...
It was great fun getting the forty or so bloggers who showed for the meet-up together for photos... kinda like herding cats!
Margene will have to tell you who this knitblogger is... I didn't catch most peoples' names!
One of my highlights from the meet-up was meeting
Imbrium
, who won the yarn for these socks in a contest I had hosted a few months back... she said that they were still a bit damp from their initial blocking when she donned them to head out Saturday morning. Great job!
Of course you have to see the gorgeous sky at 7500 feet in the Rockies... I never had before and was awed by the beauty of the place.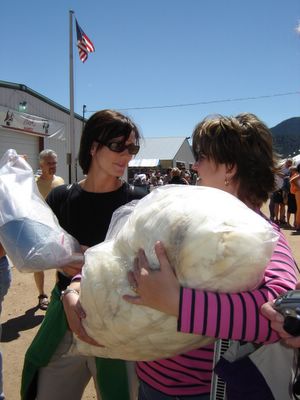 It's all about the haul, as Stephanie and Carole discuss. Carole fell for this beautiful Corriedale fleece and Steph found more spinning supplies.
A tour of the animal barns let us meet the sources of fiber up close.. I liked this colorful alpaca, but she was wary of us. Did you know that alpacas hum when they are nervous?
Stephanie took a two-day spinning workshop before the rest of us arrived, and so she headed home to Laramie late Saturday afternoon. We were sad to see her go... from left to right, Margene, me, Carole and Stephanie. Do ya think I'm tired?
Chatting and knitting while Jen (Bakerina) prepares a feast for us.
Those in our car called it a night pretty early, as we needed to depart by 6:oo AM for the long drive (Carole kept saying how brown Wyoming is). We were sad to have to say good-bye to everyone, but
Kristi
(Fiber Fool) got a ride back to Loveland with us, where we traded her back to her husband and took in Anne for the journey to Salt Lake City.
On the way out of Estes we met up with this guy. While not the only elk we saw, he was certainly the grandest. He is employed by the city of Estes Park to provide photo ops to tourists like us, turning his massive, antler-clad head from side to side in response to camera flashes.
Trekking across the Continental Divide - Carole and I pose with our socks.
This post has been all about the people and the journey, and tomorrow's will be about the stash enhancement, learning and projects in store.... stay tuned.