Trekking Socks Finished
Yes, rumors are true; I have finished my Trekking Socks
Now, to borrow briefly from
Carole
, for The Good, The Bad and The Ugly:
Good:
They are done, they fit my feet and I really love the color!
Bad:
You probably can't tell from the photo, and it certainly won't show when my feet are encased in hiking shoes, but halfway down the second foot, I noticed that I had one less rib! Somehow, when I had finished with the heel, I didn't get the ribbing pattern going over the same amount of stitches.
Ugly:
No, I didn't bother to rip; the ugly part is that I decided I just don't care... so what, etc. Maybe it's the heat (which will be triple digits for a record-breaking 11th day in a row). Maybe it's the demoralizing search for a job, or the even more demoralizing attempt to assist my two oldest relocate to Grass Valley, where there is a rental housing shortage, and a depressingly impossible set of expectations amongst the landlords we have met to date (as in, having lived here already for six months to a year - how you gonna ever get out of that tent?).
When I took stock and looked at the half-finished foot on the needles and the finished sock in my other hand, I realized it would be easier to live with the hardly visible mis-matched ribbing than it would to live with ripping so much out and re-doing. I was also ready to go on the the next pair, which are in Trekking Color #18, and made their first appearance here in Saturday's post. Oh, and don't look too closely at the toes, either. I do know how to Kitchener, and really don't have the fear and dread of it that other people mention, but just did a cruddy job this time. Well, there's another sock on the needles already and another chance to get it right.
In other news, I wanted to share a photo of this lovely packet that came yesterday from Jean Franklin, of my Foothill Fibers Guild: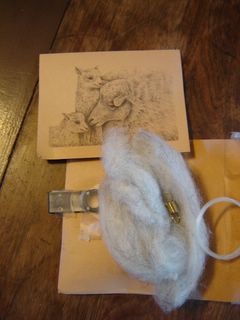 Jean sells Ashford wheels and when she read on our Guild Yahoo list that I wanted to repair mine, emailed back and forth with me (which included pictures and diagrams but no circles and arrows), till we figured out exactly what replacement parts I needed, rounded them up and sent them off in the mail. That would be wonderful enough of her, but she also included FIBER!! From her own Shetland sheep to boot! I can see that she and I will have to have a conversation about sheep coming to live here at Slate Range Camp in the (near?) future. I fully intend to spin that lovely, soft stuff up right away.
Another Guild member,
Amy
, has promised to review my spindling technique and give me tips and pointers to get me on the road to success in early August, when we both will be working at the Guild booth at the
Nevada County Fair
. The fair dates are August 9-13, and this year's theme is "Wild About Ewe" - if you have a chance to attend, it is a true county fair set in the pines surrounded by our green foothills, with lots of livestock, music on various small stages, rides, Treat Street (a whole lane full of fair food booths), and buildings with great garden and textiles exhibits!
A final photo - this one of a lovely Saturday sky on a Tuesday.