Presents?... For Moi?!
I have felt particularly blest the past few days, somewhat swamped in gifties...
First, I picked up Saturday's mail and there were not one, but two, wonderful magazines to go home and gobble up: Interweave Knits, and the first issue of my recently purchased subscription to Spin-Off. How delightful! I greatly enjoyed the article about Annie Modisett, as I admire her fierce sense of creativity (a Knitting Boudica comes to mind), and have already downloaded her Morris Fern Cardigan from the subscriber section of the website, as I love William Morris' designs, and can certainly relate to being inspired by him... this would be a capstone project to my knitting career, but I will "work towards" it! I also plan to make the Swallowtail Shawl (I would call it a shawlette) for a friend, since I already got the exact yarn called for while back at Estes, and would love to make Bianca's Jacket for myself for fall...
Spinoff was the summer issue, which has been out since June, but that was just fine with me, as I hadn't gotten it yet, and wanted to have the Estonian puppet patterns, even though I will probably have to make them from commercial yarn, as it will be quite a while before my own yarn reaches that fine quality. There is a wonderful article by Judith MacKenzie about plying and another great one by Julie Beers about adapting to having MS and still pursuing the arts of spinning and knitting for the soul satisfaction they give; although the accomodations took time and thought, the pleasure eases the pain of her illness- very inspiring to me.
DD approves of Interweave's policy to send out the subscriptions first, before you can pick up the magazine at the newsstands... we both have resented over the years the trend to make sure the flash and glitz is out there, while neglecting your subscription base. Just sayin' ...
Then, Saturday evening, DH returned from the Heart fire complex down in Southern California, bringing me this lovely book; this time he worked as a fire line archaeologist.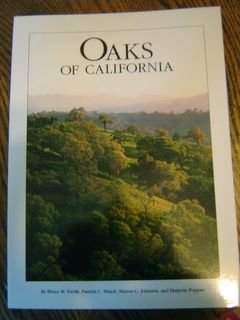 The photos are awesome, and I was glad that he took a break in Bishop, one of our favorite Eastern slope (of the Sierras) towns to stretch his legs, get a coffee beverage and comb through the great local bookstore there.
But the best gift came on Monday, when I opened a package locker at the post office to pull out this:
My
Knit Sock Swap Kit
! Assembled by
Kat
, who lives in the dubiously tropical-sounding town of Jamaica Plains, it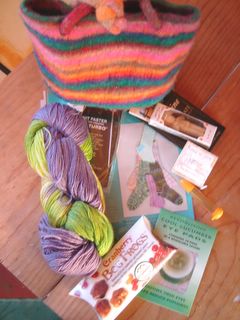 includes a fabulous felted bag (see closer-up, below for more accurate color portrayal), a Fiber Trends sock pattern and the necessary long Addi Turbo to make it with the Magic Loop method, some wonderfully-colored merino/tencel hand-dyed yarn, goodies (Cranberry Bog Frogs are most excellent, and there was dark chocolate, tea, and a little Maple Sugar Man), and very useful tools:
Note the little box... it is really a tape measure! There are also cucumber eye patches, for when my eyes get tired from knitting so much... she thought of
everything
. I am completed spoiled and delighted, and thanks so much, Kat. This turned out to be such a fun and entertaining swap - hats off to Scout again, she sure comes up with good ones.
Fabulous felted bag, nestling among pots on the plant table, with way cool yarn poking out.