An Update on Trekking Sock V2.0
My second pair of Trekking socks is progressing nicely, especially since I have decided that I want to make them shorter than
Mim
designed the pattern. I like to have ankle length socks in this hot climate for summer hiking, so made a 3 1/2 inch leg, instead of the more usual 7, and started the heel flap last night, but was too tired to make it all the way through the heel.
It appears that the heat wave has finally broken, but that means the temp. yesterday was 98 instead of over 100, so the sock, DD and a little bitty friend of ours spent part of the afternoon here:
Jackson Hole, North Yuba river
Anabel pretended to be sleeping. Perhaps she was bored by the sock.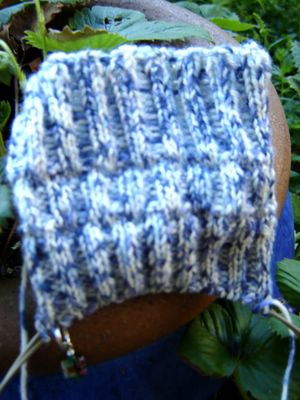 Here's a close up, showing off the nice cuff rib pattern.
Now, I am off to get ready to run an errand in Sacramento, then head to Dixon for Lambtown, which opens today at noon. I won't be taking any classes, but will be eyeing the sheep and the fiber. I promise you photos. Have a great weekend.