Pictures of the Burros
Jomama
asked that I post some pictures of the burros, so I made them all pose for portraits on Sunday.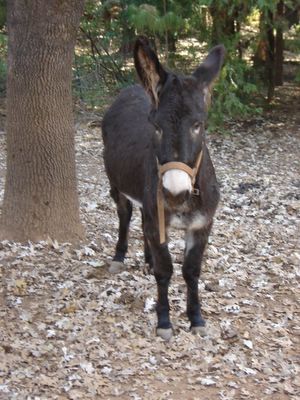 This is April, who is five and still somewhat timid. She was a wild burro living on the Sheldon Fish and Wildlife Refuge two years ago, brought in for adoption because many of the burros were getting hit by cars trying to cross the major highway, and there were too many in numbers for the area to support them.
Shortly after arriving here in May 2004, April surprised us with baby Assteroid (we knew she was pregnant but expected birth to be at least a month away still). He is now close to her height (about 11 hands) and still will fill out and grow until about age 3 or 4.