Product Review: Ebony knitting needles
Stats
:
Yarn name
: Susanne's Ebony Knitting Needles
Manufacture
:Klass & Gessmann
MSRP
: $16.99 for one circular 24 inch, size 8
"What?! Monday's Product Review not ready till Tuesday? Off with her head!" cried the Queen of Hearts. "Wait... first, let me at least tell you about the most amazing knitting needles ever ...", I wailed.
On Saturday during our visit to
Heartstrings Yarn Studio
, I noticed a box of unusual circular knitting needles ... they were black. Lucky for me, there was a little store-made sign saying they were ebony, as I can't read German... they are "Susanne's Edelholz Rundstricknadel/Flex-Stricknadeln", for those of you who can. Now, I have always been somewhat skeptical about items made for crafters out of exotic hardwoods, thinking that someone had decided to use more expensive materials to get more money out of us. However, I was attracted to these, and decided to get a 24 inch long size 5 mm (US 8) since I would get the most use out of that size, given the sizes available. I had finally found a birthday present for myself, and they cost roughly the same as Addi Turbos, so didn't really seem to out of line to me. The knitting tips are made from ebony wood, and attached to a plastic cable with gold metal (brass?) fittings that felt very smooth.
I took them home and started on the mystery project below, using some mystery yarn I purchased at the same time.. and from the very first insertion of needle tip into knit stitch, I was in love. These needles have the right heft, the warmth of wood that I love about my bamboo needles, and yet feel warmer and smoother going in and out of stitches than any other needles I have ever used (and, remember, I have been knitting for 46 years - since age 5, on almost every kind available). They also make a very lovely, satisfying clicking sound as I knit with them, and put me right in the meditation zone I so enjoy when knitting projects that allow concentration on the process more than the pattern. I began reconstructing my project list in order to plot out what I could make using them next.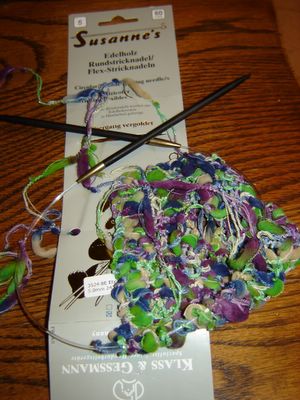 I am not telling you what I am making till next week's Product Review covering this unusual yarn.

I did a little searching, and discovered that you can purchase these lovely needles in several sizes online from Patternworks: here's the
needle c
hart. Their price of $15.00 a needle is a little better than the $16.99 I paid, but that includes Heartstring's shipping, instead of me paying Patternworks, so it's all good. If you want to start dropping hints to family members about special holiday gifts, these are certainly the perfect item for that list.