The Contemplative Life v. Continued Celebrations
My Own Personal Retreat
On Thursday evening, I was perusing a book catalog and came upon a description for a book telling you how to create your own personal retreat experience at home... now, I decided on the spot that I didn't need to shell out hard-earned yarn money for that, when I could probably come up with a perfectly good retreat day on my own. After all, I live in a scenic place with lots of outdoor space, the fall weather is glorious, I have yoga equipment and spa food (well, except for the lack of a spa chef around here). I have been working hard, but had an unscheduled Saturday approaching, my DH is still in Beaumont, TX, and my kiddos have all moved away, so why not?
I spent some time on Friday evening clearing chores out of the way, and even slept in a bit Saturday morning. I haven't read
Sweeping Changes
yet (although it should arrive any day now), but decided to apply the Zen priniciple of being in the moment while doing necessary activities, and fed my five donkeys, then came back in to do my mantra, yoga breathing and round of yoga flow asanas in a completely quiet, peaceful house.
From there, I moved on to making a healthy smoothie for breakfast, and reading. I contemplated the beauty of such everyday tasks as washing someone else's clothing with love, finishing a gift for another person with love, and being surrounded with beauty in my house and making that beauty more visible by removing some of the clutter. I also contemplated the great and good fortune of having large animals to live beside, and the need that brings for visiting a feed store regularly and hauling hay home to them. This led to contemplating the great and good fortune I have of being able to generate enough income to feed them and me.
I even contemplated my yarn stash (well, only a small part that resides in my office currently) and realized there were lots of good, small cold-weather projects awaiting my busy hands. I spent some time with the possibilities that will unfold as I develop my DD's old room into a studio workspace for myself. I came to peace with the decision not to get carried away by the approaching holiday season, either in making or in buying, but to stick by the goals we have set for ourselves in the past (and been only somewhat successful) of keeping presence more important than presents.
I stuck with my initial decision to avoid the computer all day, and to also avoid tasks that didn't lend themselves to contemplation (yeah, I know, someone is going to say that I could have found a way to remain contemplative while balancing my checkbook, but I decided that could wait).
I had such a peaceful, rejuvenating time that I was almost a little sad to see my two offspring pull into the drive an hour or so earlier than I had expected. They were coming to go to dinner with me since they can't be here on my birthday. It was time to switch gears from contemplating to celebrating.
The Party Continues
It still won't be my actual birthday till Tuesday, but I managed to squeeze in a few more celebrations this weekend. In the early evening, we headed to Downieville for a deluxe dinner.
Cody is a big camera user, too, and takes the pictures when we get together... only time there are photos of me is when he's around. He hasn't been keeping up his blog, though. More interested in collecting "friends" over at My Space.

We were really full after sharing my Salmon Ceasar salad, the apricot-glazed pork chops my DD ordered, and some lucious cream of broccoli soup, so we decided to stroll around Downieville. It is turning cold just as soon as the sun goes down these days, so evening strolls will probably soon be a dim memory, but everyone else was out enjoying the last of the good weather too, as we walked past two large outdoor parties and other evening strollers.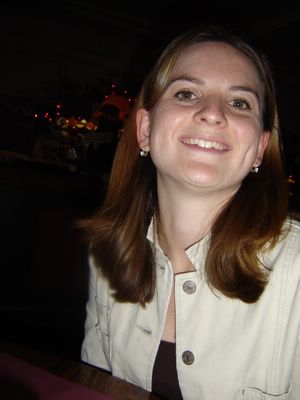 Nikki hams it up for the camera during dinner.

We decided to skip the bar, which was emptier than the streets, and headed back home to hang out and visit. I was also determined to wear my Cotton Twist tank top today for our annual end-of-year Mountain Star Quilters potluck (our year revolves around our early October quilt show) and still had to finish the edging.
I am an early riser, even on days off, so had managed to make cookies to take to the potluck before the kiddos were up and about. We had agreed to have brunch together before I headed to the potluck and they back home to Chico... my meal was small in anticipation of all the great dishes my quilt friends would bring.
As you can see, I am wearing a finished object! More on that below...

After breakfast, Nikki snapped a shot of Cody and I, with the North Yuba River right behind us... yep, here it is in all its glory, my long-awaited Cotton Twist tank top.

First of all, I have to say that I like this top
far
better on than I ever did while I was knitting it; to hear me whine about using Cotton Twist, check out my
Product Review
on it from a few weeks back. As an article of clothing, the fit is perfect, the weight is very light and comfortable under a jacket (which is good, since I don't think it will be getting hot around here anytime soon), and it has a very nice drape to it. The colors brought lots of compliments today.
Two Finished Objects in One Post... You Must Be Kidding?!
I had to part with my dear children and head further up the mountain to attend the potluck, where my Secret Pal, Betsy, who has also served as our guild's president for the past two years, was the recipient of this: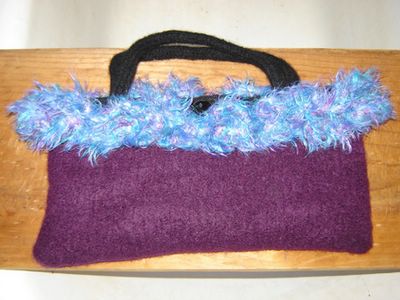 As you can see, the aubergine body is a very deep, satisfying color, the fluffy trim has all the right hints of lavender amidst the blue, there are firm and functional black handles and a classy black button for a closure loop... I was very pleased with how well this purse turned out, and how delighted Betsy was with it.

Betsy is a former shoe designer with an exquisite sense of color harmony, and she was both surprised and in love with her new purse (not to mention being pleased with the silver shoe earrings and the box of dark chocolate-covered raisins in her last package from me... we always get to find out who has been our Secret Pal for the past year with a final gift. I was equally surprised to learn that Betsy had had ME as her SP... this usually doesn't happen and I hadn't really been able to discern, but knew that my SP had really liked that new store, Two Rivers, that had opened in town in May. She gave me a wonderful pleated scarf in one of my favorite shades of green (celadon) and earrings to match.
We also raffle off the leftover door prizes from the show, and I won a book of baby quilt patterns featuring animals, and a bundle of bright flannel fat quarters, which is kind of a clue that I need to consider making grandbaby Mia a quilt.
A Charity Challenge Raffle
cathy and her co-authors Ellen and Naomi over at
Plays With Pointy Things
have decided to host a raffle for charity knitters. You will need to post a photo of a project you have completed and let them know what charity it is going to, but the prize is a nice, large skein of self-striping yarn. Go on over and check out the details.
I have gotten to know a little about Cathy in the past month through the Cloths for Katrina group. She is a teacher and has been working with her students to make knitted washcloths for hurricane refugees... to date her students have contributed over 50!
Come back by for a Product Review tomorrow... this week will feature Peace Fleece!