Edging Toward A Celebration
Counting Down the Days
My birthday is rapidly approaching, ushering in a brief season of celebration. For the past couple of decades, I have collected friends that are fellow Libras, and found ways to celebrate our birthdays together, with events stretching out at least a week on one side and the other of the actual date. One year, my friend Suzi (whose birthday is exactly a week ahead of mine) threw a killer birthday bash to ease into becoming an elder (it was her 50th)... including flying in crab and hiring two different bands for two nights' worth of dancing at a lodge up in the Gold Lakes Basin.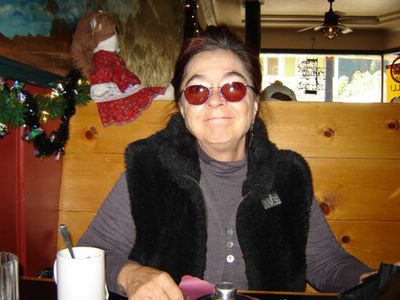 Don't you think Suzi's pink glasses are cool?

I did a pretty good job of throwing a 39th birthday party for myself over a decade ago, thinking that in the tradition of this youth-worshiping culture, I would stop celebrating... it turns out that I really still love celebrating my birthday as much as ever, and so Suzi and I got together for lunch at The Grubstake in Downieville today. Some people don't want you to know its their birthday, but we are soul sisters who like tissue paper, toasts, good food, dancing, and all the other trappings. However, we live on opposite sides of the county and had to settle for a hurried lunch instead this year.
Suzi and I relaxing after our delicious lunch together.

We discussed possible follow-up outings, but couldn't come up with a plan. Suzi is spending the weekend with her elderly mother so that her father can get away for a fishing trip. My dear husband will be away as well, down at a FEMA interagency management center in Beaumont, Texas for at least two weeks, missing the whole occasion, as has been the case for several of my birthdays during our marriage.... we even had an interesting argument back when we weren't that serious about each other yet, that pointed out to me how widely different birth families were about celebrating birthdays.
My mother always made a huge fuss, cake and candles, special dinners, presents, cards and calls after I left home, etc. I raised my own children the same way, with a traditional birthday eve poem to fall asleep to, and being prince or princess of the day on their special nativity. We still have the "cake plate", passed down to me from my great-aunt's household, that every birthday cake baked by this particular mama was placed upon and presented with candles in honor of the special child.
My attitude has been that rather than worry about getting older, keep in mind the alternative of not getting older... and I have chosen life!
I may be starting to look a little frayed around the edges, or maybe that's just the glare off my glasses.

However, this year, my kids are all away AND broke, so I may have to go to visit them... I have another party to look forward to this coming Sunday, when our Quilt Club celebrates the end of our yearly cycle, following our successful show last weekend, by holding a terrific potluck luncheon in the high Sierras, at Beatyanne's. We also get to find out who our Secret Pal was for the past year, which leads me to another cause for celebration....
A
Finished Object Waiting in the Wings
Well, actually, drying on the rack is probably more appropriate. My gift for my SP is a felted purse, shown here in its still-drenched state, trying to get dry in time.
The body is Elann Peruvian Highland Wool and the ruffle is one strand of Patons Classic Wool and one strand of
Amsterdam
.

I optimistically felted it last night, assuring myself that it wasn't really the last minute, but it feels almost as damp after 24 hours of drying time. I am going to rig up a way get more air circulating around it, using safety pins and clothes pins, while avoiding any weird impressions on the dried surface... but I won't promise pictures. It is bound to be one of my hokier attempts; let's just hope it works and I come home tomorrow evening to an almost-dry bag!
Hurricane Aftermath
Back to that reference to Beaumont, TX.... Glenn arrived in Houston yesterday and drove to the site in Beaumont where a 10-county administrative, multi-agency relief effort is being staged. There are administrative personnel from FEMA, the Forest Service, the Red Cross, Salvation Army, and several other agencies, trying to coordinate with each other and the resources they can muster to get help out to the many people stricken by Hurricane Rita in both directions.
He says that Beaumont is pretty much deserted, although the Home Depot survived and is open for business. Beaumont is a fairly old town and had massive, shady trees everywhere till this storm, but now many are on top of houses that will have to be completely rebuilt. There is still a lack of electricity and water keeping people from being able to return home, and in an echo of New Orleans Mayor Ray Nagin's statements yesterday, the town government is facing the need to lay off half the work force, as there will now not be enough revenue generated to pay them.
Although Glenn was told to expect to be there for a 14-day assignment, his fellow workers are saying, "Look around... do you really think this mess will be cleaned up in just two weeks?" He is not sure how long the admin center will be needed and may be there 30 days total. He is looking forward to seeing his granddaughter Mia and mama and papa on the way back home.
A lovely portrait of Amy holding baby Mia, taken earlier this summer by loving husband and papa, Eliot.