Time Flies When You're Having Fun
My son and daughter came over to spend the night and DS pointed out that I have been slacking in my blogging efforts. So, what have I been doing? I assumed directorship of the local child care center, The Good Years Children and Families Center just about a month ago, and have been getting up to speed. We started our afternoon preschool/kindergarten enrichment program two days a week, last week.
We spent one afternoon painting...

We have time for stories and singing.

, but we don't have much time left over for knitting, as I also still work for the local clinic... I have given up almost all of my former volunteer activites, except knitting for Cloths for Katrina, since I spend 11 hours a day working for non-profits, as well as a few on the weekends. I am hoping to get to the point where I have a life again sometime soon.
I was very excited to get
Stephanie's
new book
Yarn Harlot: The Secret Life of a Knitter
, in the mail earlier this week... it is great reading, and I have already ordered a second copy for my dear friend, Beatyanne, of the famed sweater tree ornaments. I am spreading out the light reading to have something cheery to look forward to on the most demanding days.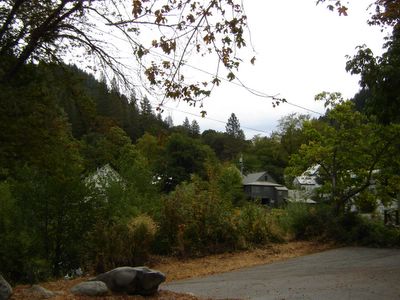 This is the view out the door of my office, rather grey today. The river is still there, just over the bank, but the leaves are turning and it's too cold in the water for swimming.

Who has time, anyway?!
As for knitting, I sat down last night, determined to finish the second cap sleeve to Nikki's top, so as to show her it was almost done when she arrived, and I did get to the end, but when I pulled the other one out of the bag and compared, it was larger! Now, to figure out which sleeve is the correct one and which has to be frogged... I am so annoyed I am not even willing to take a picture to share. On top of it, I HAVE to start on the purse for my quilt club Secret Pal, since there is only two weeks until the party (when it has to appear felted, dry, and prettily wrapped). I also have a baby hat to make and the mother is 8 1/2 months pregnant (do you think I am running out of time yet?).
I am not a procrastinator, and would have all of this done, and be able to start the
Candle Flame
shawl pattern I just found if I weren't working so dang many hours (now that I am working around even younger children I am determined not to curse, even about knitting mistakes). Trying not to tear my hair out, how are you?