Product Review: Sugar N' Cream or Peaches and Cream?
I know this title sounds like a diet-buster, but these are both worsted weight cottons produced for practical, washable items such as washcloths, and the
Cloths for Katrina
group has lots of people using them right now, so I decided to share my thoughts with you.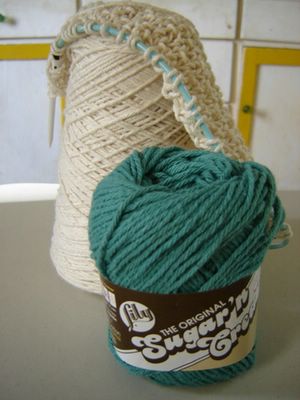 Cone of Peaches and Cream in background, with partly completed washcloth draped over, and Sugar N' Cream in the front.

Peaches and Cream
:
Stats
:
Manufacture
:
Cotton Clouds
Size
: 16 oz. cone/840 yards
Fibers
: 100% unmercerized cotton
MSRP per cone
: $14.95
The color range in the cones is pretty limited, but I have made 6 washcloths from one cone so far, and am only about halfway through it. The texture is rougher than the Sugar and Cream below, but durable. Perfect for this application.
Sugar N' Cream
Stats
:
Manufacture
: Lily
Size
: 16 oz. cone/805 yards (also available in smaller balls)
Fibers
: 100% natural cotton (natural is the word used by JoAnn's site)
Jo Ann sale price per cone
: $10.49
Sugar N' Cream comes in lots of solid colors when you buy the smaller balls, and in ombres as well, although for some reason the latter has less yardage per ball than the solids. I find the Lily brand to have a softer, fluffier hand, and the washcloths at our house have been made from it for years. It softens with repeated washings.
There are other brands of this same product, such as Lion Brand Cotton (which used to be called "Kitchen Cotton", and Bernat Handicrafter, but I have not used either. There is also an even fluffier cotton from Bernat, called
Cottontots
, that I have never found, but will have to order online and try out. One knitter in the Katrina group insists that this makes the softest facecloth of all. Are you dying to get started on some cloths now? Hope so....