A New Way to Bind Off
Although my
Cloths for Katrina
buttons have "disappeared" into cyberspace on the left there, the group itself is going so strong - we are now close to 250 members in just over a week, all of them working feverishly making washcloths for shelters in TN, LA, MI, and AL (and probably someplace else I am overlooking). I will have the buttons fixed by tomorrow, but don't let that stop you from joining in this effort - even if you just make one washcloth, it will be a bright spot in someone else's life. In other relief effort news, knitters have donated $82,063.43 through the
Give A Little
site put up by
Margene
and
Susan
, so check them out too!
I mailed off my first shipment of washcloths on Friday, with four from Peggy, my fellow crafts co-op knitter, and five from me, and have finished one and a half more, but decided to finish the two tank tops haunting me before the summer is officially over September 21st, on the Autumnal Equinox. In doing so, I discovered a really cool method of binding off ribbing, called the Elastic Bind Off, and decided I needed to take some pictures and share this with all of you: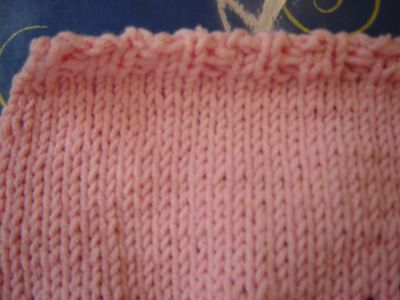 Step 1 - Along two rows preceding bind off row, work only the knit stitches and slip the purl stitches purlwise, with the yarn in front. This photo shows the carried thread - looks a lot like the elastic thread you see sewn into commercial garments at edges.

Step 2 - Insert tapestry needle in selvedge stitch, from front to back or left to right. (If the following stitch is a knit stitch, insert in 2 stitches at the same time). Slip stitch (or both stitches) from needle and pull thread tight. I don't have a picture of this step, since I didn't get the brilliant idea of documenting this cool technique till I was midway along.
Step 3 - Insert needle in following stitch, from left to right (or from front to back). Pull thread. Leave stitches on left-hand needle.

Step 4 - This one isn't very clear, but now from right to left insert tapestry needle in last stitch (which is no longer on knitting needle) and in following stitch.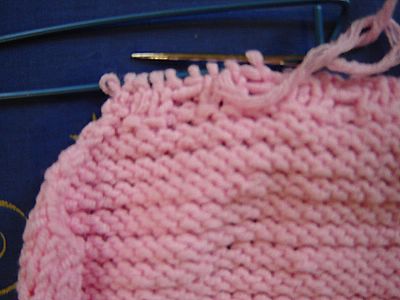 Step 5 - Insert once more, from right to left, in stitch nearest point of left needle. Pull thread. Slip these two stitches off the needle; they are now "bound off"!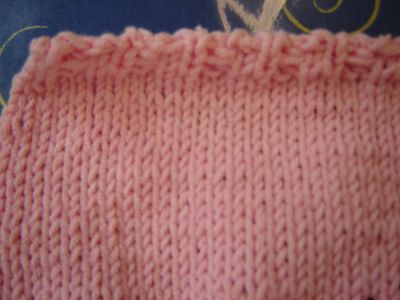 This photo shows the completed elastic bind-off method. Note the yarn being carried between the slipped purl stitches on the row below the bind-off.

This bind-off takes quite a bit longer, but results in a very giving edge, appropriate for a place where ribbing needs to give and not be tighter than the rest of the knitted fabric. I also fell into a meditative rhythm: "left to right, right to left, right to left, off the needle, now once again, left to right, right to left, right to left, then off the needle" that was very soothing.
I also managed to get halfway through the first of two cute little cap sleeves to go with this top for my DD, a Bouton d' Or design called Fericy, from last year's spring collection, and to finish the Cotton Twist tank top I have been making for myself, at least the knitting part. I will still need to work in the ends, and crochet around the neck and armhole edges. That top is destined to be worn under a suit jacket this fall, so will get some use in spite of the falling thermometer.
I took this photo Saturday afternoon, before completing the front straps, which are joined to the back straps with a two-needle bind off.

Cotton Twist will be the subject of an up and coming Monday Product Review, but tomorrow's yarn review will be a compare and contrast of the cottons people are using for the Cloths for Katrina, so come by for a visit.