The Melt is On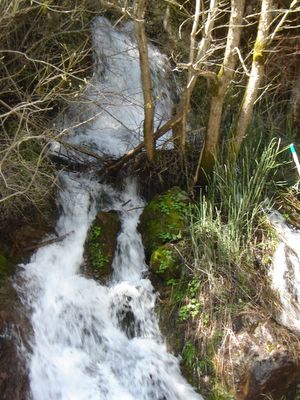 This is a roaring freshest, coming off the mountainside to add to the swelling North Yuba, normally barely detectable as a dry wash the rest of the year. The river is full of rafters, kayakers, and fisher-people for opening weekend of trout season (a big event around here).
The past few days have been wonderful, warm spring days... we have gone from rains and temps in the 50s to bright sunshine and the 80s; it's a bit of a shock, but we can finally wear our spring clothes and sandals. I have even toyed with putting the wool projects aside into storage and starting on something I could wear very soon, such as
this
, in Rowan Calmer's
Sour
colorway.
I spent yesterday out and about, including getting to see the Portola quilt guild's Cabin Fever quilt show. There, I also connected with Anna, our friend whose
sheep farm
was featured here back in mid-March. She has gotten some of her wool back from being spun up and so I bought a nice, medium-grey skein of light worsted weight to make my own version of the
Nautie
featured in the spring issue of
Knitty
. Unfortunately, that is really the only thing in there that caught my fancy this time (well, maybe the pedicure socks, but do I really need them?). However, I was also enamored with Anna's charcoal laceweight wool and thought about switching my Mountain Peaks shawl to a yarn choice that would give me better stitch definition, especially now that I have seen a few completed on the Mountain
Lacealong site
- go take a look.
Yesterday afternoon, I did finally get my Mountain Stream scarf off the needles, finding a few quiet moments to turn the last corner and graft the last bit of the border together... a clever pattern that I just loved and will probably make again when fall comes along. I hope to block it this afternoon and have photos to show later in the week. My version may actually block out to a narrow stole.....
I was also able to capture a few photos of my great, new tool from
Nana Sadie Rose
:
My DPs, neatly and beautifully organized in my new Odessa case. I have just finished reading Wendy's chapter about knitting tools, so can feel very smug and self-satisfied to have so many lovely bamboo dps (a few sets aren't even in there yet), and a lovely way to store them.
My rolled up DPs
The one project that has seen some attention is the ruana, which has grown steadily to almost the mid-point; I may even be able to finish it while the evenings remain cool; it is growing into a rather warm mass of knitting which will be way too warm to hold onto in another month.
I have been working on expanding my writing into other formats and have some good news and some bad news. As you know, I wrote a review of Wendy's book as a Product Review a few posts back. She asked if I would submit it to Amazon, which I dutifully did, adding how much I enjoyed her Bad-Ass Knitters' Kitties' Manifesto. There were no reviews for her book yet, so I waited optimistically. Unfortunately, I totally forgot how parts of the world outside of blogland are much more "language-sensitive"; now there are several reviews up on the site, but none of them are mine. Heck!
The good news is that I have been asked to contribute to a group blog to entertain and inform others about the
Eat Local Challenge
. You will be hearing a bit about my efforts here, but most of my food writing will move to that site. I will be posting there about once a week.
In acknowledgement of the return of spring and outdoor living to the Sundstrom burrostead, I stopped by the fish store on the way home from work the other day and picked up two new and improved pets:
These pretty babies are Comets. Long and faithful readers may remember that two years ago, for Father's Day, I built DH a backyard water feature, right next to the place where our outdoor easy chairs are...and attempted to have a few fish in it as well as the plants and fountain. The first year, we tried feeder goldfish, who ended up attracting garter snakes. Last year, larger goldfish resisted the returning snakes but succumbed to raccoons (I know, it's the food chain in action, but geez... these are MY fish we're talking about here). This year, the newly cleaned out water garden has a wire mesh cover, partially visible, and much larger fish. Keep your fingers crossed.