What's the Point of a Shrug? Is it Stylish or Frumpy?
When I first modeled my finished shrug for my husband, he joked "Aren't your friends going to give you a bad time about making only half a sweater?" Actually, a shrug is a pretty useful garment, providing warmth over the upper torso without much extra bulk, and allowing considerable freedom of movement. But is it a STYLISH garment? As I look at this photo, I wonder how well it really looks on someone like me, short and somewhat stocky... yep, I used Photoshop to crop because my butt looks too big!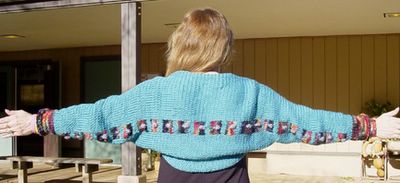 I probably should have had a front view photo taken as well, if we are going to discuss fashion. A shrug actually has a nice line down the front of the arms and accents a long, narrow type of dress. It could also make a glamorous evening wrap over a LBB or strapless number, and then you could get quite glitzy with the yarn choices. I wanted a practical, wear-with-jeans one, since I live in a cold, drafty 150-year old Gothic house, and lead an outdoors-based lifestyle (my burros will be less likely to take a nibble of a corner, since there are none).
I am intriqued about knitting flattering garments, since much of the personal writing I have read by other knitters indicates that the projects they are most dissatisfied with involve bad fit or bad style choice for their individual body. Bonnie Marie Burns has written a great article on
Knitty
about achieving the perfect fit, titled
"LaBonne's Tips for RealityKnits©"
. I particularly like the reference to working from a well-loved and flattering garment you already have; this technique has worked well for me in the past when I have sewed clothes, and should prove helpful for knitters, too.
There is the dimension of getting the right yarn, too, though. Some failures are the result of bad combinations of yarn and needle choice, resulting in fabrics that were too stiff or too loose. I remember making a crocheted jacket with dolman sleeves back in the early 1970s that was just too stiff to wear comfortably but at the same time succeeding with a tight knitted sweater, that actually had a side seam zipper in order to keep that snug sweater girl fit. I give the professional designers a lot of credit in coming up with winning combinations, since substitution doesn't always provide the same original intention, and can add another failure to the "fix-it" pile.
Speaking of "fix-its", there is a Knitalong group committed to making February their "fix-it" month, supporting each other in ripping out, re-doing, or re-using any old projects that got completed but didn't make it into the "must wear as much as possible" pile. My contribution will be an olive-green colored mohair Mobius ring shawl made several years back - what was I thinking with that color? Probably the one color besides bright yellow that makes my skin look its absolute worst! And the bulky weight just didn't drape softly and gently around my face like I envisioned, but actually bulked up the scarf so much that it impaired my vision wearing it!
Heartstrings
has a good Mobius calculator, to get you started. Everyone is different in what they are looking for in a scarf; maybe if I lived where the mornings were routinely 30 below, I would want that thick Mobius, instead of the romantic, drapey one I am yearning for. Check out
Alison's
blog for more details and some good links to help you with your February Fix-It.
Happy knitting AND fixing!