More Adventures and a Spinner's Picnic
I used to travel over 9 miles of dirt road each way to work, except for when the deepest snows blocked the road, forcing me to drive an alternate (paved) route of 46 miles, and often could claim that I had more adventures before breakfast than most people had all day, but I thought I was over that phase... till last week.
My great adventures with
Margene
,
Carole
, and Anne should have been enough, but my day turned into another adventure when I least expected it. Twice. In the same day.
I am a commissioner for our county's
Children and Families Commission
(also known as First Five and associated recently in the news with Rob Reiner), and attend a monthly meeting on the other side of the county, which results in good community service because of my child development background, quality mindless-knitting time, and good blog photos as I travel through some awesome and mainly empty country over Yuba Pass and through the Sierra Valley. Today, the Sierra Valley was full of smoke, blown in from a wildland fire in western Nevada, and too thick to offer good photos. I had a meeting at the health dept. first, then our commission meeting at noon. The meeting went well, though longer than usual, and in the late afternoon, I headed on a different route - 90 miles to Nevada City, so that I could join my guild members for the annual picnic.
We have been experiencing a heat wave for almost a week, the weather pattern that pulls cool air in from the ocean and results in thunderstorms when that mix of air backs up against the Sierras on the eastern side of the Central Valley. There have been several days of lightening strikes and smallish wildfires. Just my luck to end up caught in a "wicked" hailstorm, with hail the size of large marbles, or ball-bearings, quickly filling the roadway... when I looked through my rearview mirror and saw that the "rain" was bouncing in the bed of my truck, I thought it prudent to pull over... well at least long enough to shift into 4 wheel drive. Then, when I looked out the window and noticed that the roadside was beginning to turn white, I decided stopping a bit was wise. I was wearing flip-flops, a skirt and a sleeveless shirt - not ideal for sliding off the road. I found a wide spot, filled in with three other vehicles eventually, and spent about 20 minutes waiting for the hail to turn back to rain!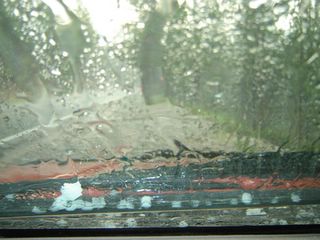 By the time I reached Truckee, I was out from under the storm and it was sunny again, but an alert came on the radio for even more severe hailstorm activity at the south end of Lake Tahoe, warning boaters off the water! I was a bit disappointed that my personal storm hadn't warrented an alert.
All was good till I got to Nevada City and realized that I had wretched directions and was not entirely sure I could find the house where the picnic was to take place. Those who have suffered through using online directions will probably relish devising an appropriately derisive name to label such torture. I had only 45 minutes at work before leaving for Loyalton, and had checked the address on Yahoo the first go-round, since Margene had been so sorely disappointed with Map Quest. At least I knew my county, and could quickly see that the directions leaving Loyalton sent me off on a seasonal dirt road towards the Interstate. Shorter? Maybe. Crazy-making? Definitely. I took another shot with Map Quest, and the start was correct, but I didn't catch that then address had gotten garbled, and I was being sent to another part of the town.
Not until I was trying to follow them, anyway. I passed the same spot twice, just like we did in Estes, but I knew this spot, and I wasn't getting any closer, and I hadn't copied down the hostess's phone onto my hopeless directions like I had planned, in the rush to get out of the office on time. I circled around to the library, hoping to check a map or get on a computer, but all the employees were driving their cars out when I arrived. Sigh, that meant I was already late to the picnic!
The good old spirit of adventure kicked in again though. I WAS NOT going to head home (24 miles away) without trying to locate the place, even if I had little to go on. After all, I still had half a tank of gas. You'd do it too, for food and fiber friends, right?
I knew which exit to take, and headed in the right general direction, hoping that the road name would pop up. It helps that our state assigns house numbers increasing in size as they move away from the city centers. I turned onto the major road I had remembered from the Yahoo directions, and came upon "Hillcrest" (but I had been remembering it as "Hillside", decided to turn and found a man directing traffic. I had to admit to him that I was lost and not even sure I was supposed to be attending his party - was this the spinning party?
I had hit paydirt and almost kissed the poor husband-of-a-weaver (these men that stick with us fibery women are such good souls). My whole trip had been so surreal over the past two and a half hours, but sure enough, there were my guild friends in line for delectable foods and desserts.
A special feature of this year's picnic was two exchanges: woven handtowels and knitted washcloths (someone even participated in both!). I had a few washcloths to contribute and came home with some very nice ones I chose each time it was my turn... I promise a photo tomorrow.
Another sweet moment was the "crowning" of two members, each celebrating their 80th birthdays this year, with paper crowns, as our revered elders (they also no longer have to pay their annual dues). I had a relaxing time and was sure glad I had charged through my adventures to be there.