Catching up
I have been feeling a bit introspective this weekend, watching summer wind down, and decided to take stock of some current projects:
CeCe
Why have I been neglecting CeCe lately? She is such a pretty color and so super soft .... CeCe got off to a flying start, but I had to use my Palm to keep track of the pattern and increases, and never have made it to the intuitive stage with this pattern... on the other hand, when I put her aside to make Lily of the Valley, I just flew through the pattern. Now, if I were
Carole
, I would forge ahead, staying up late nights if need be, to have CeCe completed to wear to
Great Basin
this coming weekend. She is accompanying me to my shift at the crafts co-op later today, and I will see how I feel after spending some time with her again. But then, the reality is that I am NOT Carole - go visit her blog and check her progress in the
Wing of the Moth
Shawl Race; she set a handicap of finishing her Adamas shawl before even starting, and now that
Vanessa
has won the race in only two days of knitting (non-stop?), it will be interesting to see if she plunges ahead.
Me, I just have been running around too much, as well as doing a lot of spinning practice - yes, it does cut into my knitting time, but I am fine with that right now, since it is what I am choosing to do... there will be more yarn photos soon.



Four socks do NOT two pair make!

(Or "Trek Along With Me" Revisited)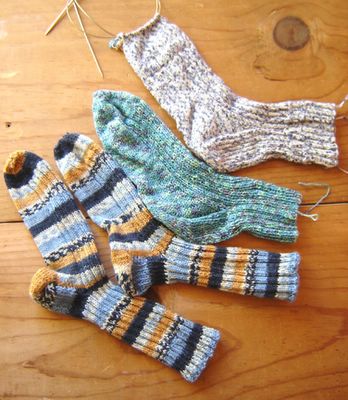 I started the summer taking on the project of learning to knit socks on two circs rather than the four DPs I had used for years... my first sock in Sockotta cotton above, just worked up to be too loose for real sock wearing, despite being "on gauge", a lesson to me that there is more to consider than simply matching someone elses' number. Did I rip out and start over... oh, no, of course not! Wanting to join in the action at the
Trek Along KAL
, I bought some Trekking yarn as soon as I touched down in Salt Lake City for my visit with
Margene
(she is such a lovely enabler), and started what turned out to be my first pair for the KAL (they are the ones that match, just in case you were wondering!). I enjoyed the
first pair
, finished by the end of July, and wanted to keep on taking photos of socks in great hiking locations, so started a second pair, using Mim's free pattern (sorry, Mim, I can't locate the download link on your new site). Things slowed down considerably at this point, as spinning took on momentum after I signed up for a class next weekend, and wanted to at least qualify as "advanced beginner", or maybe, possibly, "intermediate" spindler.
I was closing in on the toe of the first sock, happy enough to be able to have finished one pair by the Labor Day weekend deadline, when it hit me the other night that I was doing the toe decreases wrong... half as frequently as required to get that nice, round shape... Caution: Frog Pond Ahead!
A close up of the two problem socks; the Trekking pair will get finished up over the next few weeks, but the Sockotta will be ripped and put away till further inspiration strikes... this is a very pretty yarn, but I will be returning to wearing wool socks (which I do for about three-quarters of the year), and will probably save this yarn to make a pair of socks next spring.
Moving Forward
Fall weather means a change in more than just socks, and I have been wanting a slightly warmer cardi... this yarn came home with me Friday, destined to become Bianca's Jacket from the
Fall 2006 Interweave Knits
. I fell in love with the pattern, but it called for
Muench Sir Galli
, a silk worsted, that my LYS owner said has been discontinued... while we were searching through the shop to see what might work, I came upon this lush Inca Cotton. It appealed to my newly learned handspinning skills, with a thick and thin quality that experienced spinners say is hard to get back to, once you do lots of even spinning, and also to my years of tea-dying various fabrics and yarns for projects.
Now, both yarns are listed as worsteds, but me being me, of course my new choice is working up in swatches as much looser; this time I think it is the quality of the cotton yarn as much as it is my "loose woman" knitting style, so I spent last night recalculating and crunching the numbers to get the pattern to work with the yarn. I realized that "intuitive" works well for me the more involved I am in seeing the shape and intent of a project or stitch, and that all the number-crunching I used to do in drafting my own patterns was still tucked away there in the aging brain.
I just read an interesting overview of Adult Numeracy learning, that included a synopsis of one study of women engaged in knitting and quilting. The researcher learned that "The women's understanding and use of math emerged within contexts that were meaningful and pleasurable" - but you knew that already.
The other exciting news is that I was interviewed and hired on Friday to teach knitting to first and second graders at
Yuba River Charter School
, as part of their Waldorf-based handwork training program throughout the grades! I will be doing this on Monday and Wednesday mornings, working around the GED classes I will be teaching at our county jail... a good balance between children and adults, I think. My work plate is full now, and hopefully will meet my needs so that I can avoid further agonizing and searching. Special thanks to those of you who sent me support and love over the summer as I waded through the muck of transition and change.
This photo is for
She Knits
, who asked to see the donkey puppet I found when I met up with
Becca
two weeks ago.
Lastly, today is my beautiful daughter Nikki's 23rd birthday! She is just coming out of a more agonizing work transition than me, but it included moving closer to us and I get to see her a few times a week. She and I and her two crazy brothers, one older and one younger all had a celebratory Chinese food feast last night in her honor.
Among all her other good qualities, Nikki is always willing to visit a yarn shop with me. She rocks!