What I've been Knitting
Yeaah! I finished the heart scarf for the
Red Scarf Project
, got the two pieces grafted together and am almost done with the other red scarf, so photos will be following, before I ship them off to
Lisa
. I am very happy with the drape of the hearts, and actually decided that the scarf only needs some light steaming rather than full-on blocking, as the hang and drape accentuate the hearts and the edges keep it flat. The other scarf uses the same deep red wool boucle, but with a strand of Dazzlelash to add bright red sparkle. The pattern is K1, K2T, so the fabric is drapey yet firm, and I am going to make myself a spring scarf out of
Eros
using this stitch/needle combo.
I also started the
Hoover Baby Blanket
last week, but haven't gotten a photo of it yet; need better light than late evening at my house provides. This blanket will be a present for baby Mia (parents are Amy and Eliot and Amy is Glenn's lost-for-several-years daughter, so we are very happy for them). Amy just sent us the DVD birth announcement that Eliot constructed following Mia's arrival on January 7th, and she is truly very cute and pretty and baby pink cuddly (of course there's no bias here).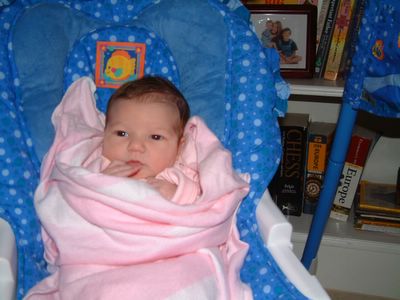 Here's Mia

Being somewhat non-traditional, I picked lilac as the main color and peach for the second, so it would be reversible and will make a nice blanket when it's time to set the baby down on the floor on something (totally washable acrylic, but Berella which has a very soft hand).
I also had a skein of bright pink
Lamb's Pride worsted
that I picked up about a week ago, planning to make a pair of
pocket slippers
for myself (so named because they are small enough to tuck into your backpack or carry-on when traveling, and stretchy enough to expand into cute little mary-jane type slippers. I loved the color and WANTED those slippers on my feet during the cold evenings while I was working on these other projects, so broke down and knitted up the first one night before last while watching Mosaic: World News from the Middle East on
Link TV
with my husband (this program shows news stories as reported from TV networks throughout the various countries in the Middle East, giving greater insight into how media is manipulated and how it helps form public thought, as well as how the cultures differ). I then stitched it together and modeled it for him last night while we were watching a documentary on filmmaking in Iran (very artistic and cinematically stylistic films are developing as the artists try to work within their government's censorship).

Now, on to the other foot!