Loot!
Yesterday, my husband and the black powder parade unit he belongs to marched in the annual
Gold Nugget Days
Parade in Paradise. Of course, the weather refused to cooperate again this year, with the hardest rain falling right when they were scheduled to march.
While we waited, my friend Ilene and I walked through some of the local shops and the crafts fair that is part of the annual festivities. I discovered this great shop, Knit Wits, which was celebrating its First Anniversary in business with a store-wide sale. Can you say "yarn" and "sale" in the same breath without getting heart palpitations? I know I can't! It was great fun going through the store, partly because they had the widest selection of new yarns for spring I had had a chance to actually touch (remember, the nearest LYS is 25 miles away, and I do a lot of my shopping online). It was also a lot of fun to watch Ilene, a non-knitter, in rapture at all of the delightful colors and textures now available in yarns.
The owners, Terry and Devvy Huggins, bought the yarn and leftover inventory from a man last year, and have brought in many new items. They also had huge plastic bins out front, where they were getting rid of the yarns that came with the shop, some of them no longer identified with labels. Well, I love a challenge, and know my fibers pretty well, so I managed to get some killer deals... enough cherry red mohair blend to make a small triangular scarf/stole for $4.00, a nubby variegated coral cotton for a slim scarf for $1.00, some balls of bright blue perle cotton (actually its probably rayon, and a DK weight) for $3.00, and four possibly partial skeins of a light heather blue wool blend, unlabeled, for $1.00.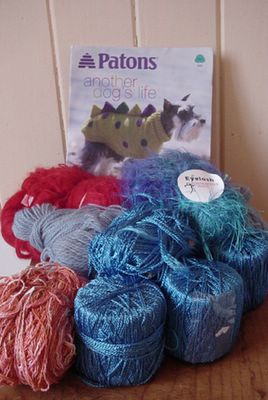 My loot from Knit Wits

Devvy actually got out the long-tipped lighter so that we could test a piece of the blue to see what we thought it was... it flamed up, but went right out, so the two of us agreed that there must be a good deal of wool in it. I liked her right off, as not every shop owner would be brave enough to light a piece of yarn in their crowded store, over a $1.00 sale! I was holding my breath, and hoping I hadn't guessed wrong and was about to be the cause of a great calamity.
Devvy at the register and Terry in the background, keeping Knit Wits going on the anniversary of their first year in business.

Of course, I couldn't stop entirely with just the mystery yarns, not with everything in the store being 15-20% off for the anniversary. I found some
Trendsetter Eyelash
in a great turquoise to match the wool that arrived earlier this week from Elann for a purse order I have to start this week, as well as some
Lana Gatto Amsterdam
, a fluffy polymide yarn that will make a great scarf in combo with the bright blue rayon - for a surprise for Ilene. She was so delighted by the sight and feel of so many yarns, that I had to capture her on film.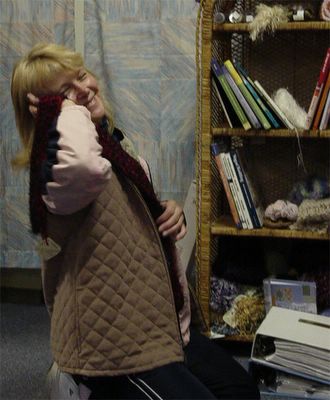 Ilene just loved the feel of this scarf. She doesn't know I snatched up some lush yarn to make her one of her own!

The last item in this photo is a leaflet to make dog sweaters... I just couldn't resist, since I was in the mind frame to be thinking of items to make for our Mountain Harvest crafts coop. My first day tending shop will be at the end of May, on Memorial Day, but I already have a few items in there.