New Toy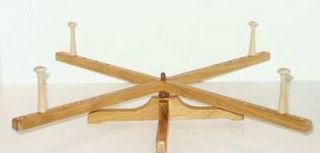 Hey , lookie what I found! This is a tabletop swift, hand made of wild cherry wood by
Dragonfly Turnings Fiber Arts Tools
.

.
I located them on
Ebay
, and was pretty thrilled to be able to get a prettier swift at about $20 less than the going rate for the umbrella swifts that clamp to the table. I have put this off for years, but will be able to list it as a business expense this year, and be able to get yarn wound a whole lot faster. And, according to
Stephanie
, this could save my marriage, reducing the stress induced when you are always asking your mate to hold yarn for you to wind (another pithy tip from her fab
bookbookbook
).
Here
is another beautiful tabletop model that I saw at Three Dog Knits. It's still more expensive, though.