Taking Your Husband Yarn Shopping
We have spent the past four days traveling through the North Coast, and started out about midday Tuesday, getting in great visits with our friends Ben and Kelly at
Butte Creek Outfitters
, where we got enthused about the upcoming backcountry trail season, and with Ginny at Hole In the Head Gang rescue, checking out the remaining Sheldon Wildlife Refuge wild burros that she has to place: three males and two females.
It took pretty much all day Wednesday to travel down state highway 39 from Red Bluff to Eureka and Arcata (actually, the highway meets US 101 in Fortuna, but we decided not to stop there). I couldn't wait to cruise around Arcata, looking for a yarn shop. My husband, of course, groaned at the mere mention. We had a good conversation with the owner of Rookery Books, one of the
local book stores
, where we picked up the latest Northern California road atlas (for back road explorers, these are awesome, because they not only show all the back roads and byways, but also are TOPO!).
He directed us to
Fabric Temptations
, where my husband got so engrossed in conversation with the clerk, discussing why there weren't any public bathrooms, which led to why there is so much homelessness in the area, which led them to discover that the clerk had a Bachelors in Zoology, and then to his giving some background on working for the Forest Service, that he didn't even notice that I had already had the other clerk ring up my purchases! I got some fabric for my quilt club secret pal and some buttons in one of my favorite shades of pink, but didn't find the book I have been searching for throughout this trip, Last Minute Knitted Gifts (it has a pattern for a felted yoga mat bag that I want to make), nor did I find any yarns I couldn't resist.
We spent the evening walking through Old Town Eureka, where we stayed overnight. It took awhile to come up with a local phone book, so that I could locate the address for Boll Weaver, recommended to me by the Arcata clerks. We walked down along the boardwalk in the morning and also stopped in at the local St. Vincent De Paul, where I found a partial cone of dark brown Crystal Palace cotton chenille, and two beige skeins of Nature Spun, and then we checked out of our motel, and headed towards Boll Weaver. I was encouraged to pull into the parking lot, because it was shared with a local True Value hardware store, and I figured I could send my husband over to peruse the hardware while I browsed through the yarns.
Unfortunately, Boll Weaver (2748 E Street; 707-443-8145/FAX 707-442-0755) wasn't set to open for two more hours, and we had over 100 miles to travel that day, through
Avenue of the Giants
to see the redwoods, and arrive at my in-laws by dinner.... luckily, the same time I was copying down their address, I had noted that there was a yarn shop in Ferndale, where my husband had already expressed a desire to stop and show me the large
Victorian district
.
We arrived there in the late morning, and browsed up and down the street; the victorian storefronts are just awesome, and it was an uncrowded Thursday morning in spring, so we really enjoyed ourselves. Unfortunately, the Foggy Bottoms Yarns & Antiques (563 Main St., Ferndale, CA; 707-786-9188) wasn't open yet, prompting an ascerbic comment from my DH about how yarn shop owners must like to sleep in, considering the hours they post.
We stopped in at
The Arts and Cultural Center
, looking for a public restroom, and discovered The Weaver's Shop (580 Main St. 707-786-9421), where we spent the next hour. How did I get my husband to do that, you wonder? Well, turns out there were multiple attractions: he actually took an interest in the wide assortment of felted knit clogs available to purchase, and when I casually mentioned that I already had the pattern at home, and would he like me to make him a pair, both he and the co-op member staffing the store that day, took an interest in helping me search out the right yarn. We selected some yarns from the
Briggs & Little Woolen Mills
of New Brunswick, Canada, and asked the clerk to wind the skeins into center-pull balls (I may be the last knitter on earth to ever get around to buying a swift and ball winder for myself; at the current total cost of about $100, I'll keep asking at the shops or using the wind-it-yourself method). We chatted while she wound, and again my husband found a like soul, discussing the history of the region and anthropology in general.
She also showed us the coolest invention I never knew about, a circular sock knitting machine from the 1890s, that the owner uses to produced socks for sale in the shop. It is a cast iron version of a large peg knitter that you can clamp to a base (in this case to an old treadle sewing machine). There is a mechanism to feed the yarn, add weights for tension, etc. and my DH was even more impressed than I was, I think, envisioning a return to the days when I made all of his boot socks by hand. I am seriously going to search for one of these machines! I have posted a link to
Angora Valley Farms
, where there is oodles of information about sock knitting machines;
this
is the closest to the model we got to see in action.
The
Kinetic Sculpture Museum
is also located in the Arts and Cultural Center, and features past entries from their world famous race, held every year on Memorial Day weekend since 1969... a tribute to human innovation worth checking out if you are ever in the area.
Across the street, I noticed that Foggy Bottoms had opened its doors, while we had been having such a great time at The Weaver's Shop, so naturally, we had to at least peek in. I didn't purchase anything, but commiserated with the owner about how difficult Echo yarn is to knit up, and she showed me a few others that were constructed to avoid the pitfall of getting your needles hung up in between the "rails" of the yarn.
One last great find.... we decided to roam around
Mendocino
, checking out the Victoria architecture this afternoon with Glenn's parents. Of course, the guys didn't want us lagging in any shops, which have filled up most of the downtown section for the past twenty years. I did have to make a stop at the local bookseller's
Gallery Books and Bookwinkles
(their childrens' book store which shares the same space). I totally lucked out, and found a copy of Stephanie Pearl-Mcfee's (aka
Yarn Harlot
) new book "At Knit's End: Meditations for Women Who Knit Too Much).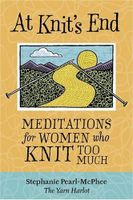 If I had had the foresight to have a camera with me, I would have forced one of the family to take a picture of me holding my copy outside the store. I am always happiest being able to buy a book I am looking for from an independent bookseller (end of editorial).