Teenwork and a trip to Disneyland
Teenwork
is sponsored by the California Friday Night Live Partnership, and brings youth leaders from throughout the state together annually to share what their successes have been and to get recharged to continue their work as youth advocates.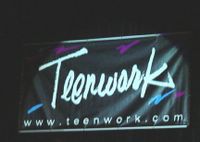 This is Amanda Page, ready to present her workshop, Every 15 Minutes. She conducted the program at one of our district's high schools last fall. It is based on the statistical fact that someone dies as a result of a car crash caused by a drunk driver once every 15 minutes in the U.S. Amanda is my hero; not only did she put on the E15 assembly practically single-handed, then go out to Teenwork to teach others how to do it, but she has overcome the serious damage alcoholism has done in her life: her father was an alcoholic, causing the death of his best friend in an alcohol-related crash for which he served three years in prison, then dying himself in another crash. One of the most popular parts of her workshop was how to apply the makeup she is wearing.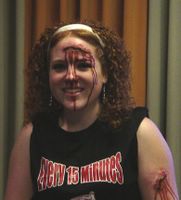 Amanda applies Don's makeup. He dressed as the Grim Reaper; in Every 15 Minutes programs, a student is removed from class every 15 minutes throughout the day, symbolizing the continued death and destruction drunk driving causes in our country. They work together with counselors to write their obituaries, and present them along with the video or slide show of a staged crash at an assembly the following day. The program encourages that the youth leaders work together with emergency services personnel to stage a realistic crash scene. Parents, even though they have consented in advance, have often found it to be a very painful emotional experience and have been great allies. My youngest son, Jesse, agreed to portray the drunk driver in 2001, and I found it hard even to watch the video.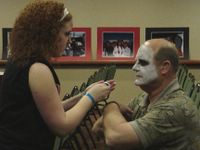 Workshop participants also got to try on the "drunk glasses" which distort their perception in much the same way as being in an altered state. The young man on the left won the race we staged, mostly by being barefoot and shuffling along, but not without lots of weaving and almost falling.

We rushed from the first Every 15 Min. presentation to set up during lunch for our presentation on Wilderness Challenge. Our assigned meeting room was on the exact opposite side of the complex. Wilderness Challenge is the outdoor recreation and youth leadership program we run each summer. Kayla, Morgan and Nick did a great job showing our powerpoint slides and describing the various rock climbing, kayaking, hiking, fishing, and swimming activities we have done together over the past several years. They also staged a race, using a climbing harness, shoes, kayak helmet and flotation vest. Although their workshop was designed for a smaller room and less people to attend, I was pleased with the interest it generated in people from other regions.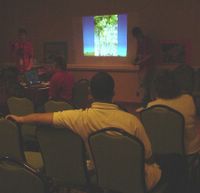 Questions and answers at the end. Then we ran back and did Every 15 Minutes over again. Whew!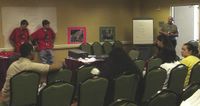 The conference ran from Monday evening (with a formal opening on Tuesday morning) through noon on Thursday, so we arranged our flight home for Friday morning so that we would have time to visit Disneyland. Nine of us went in together, but we soon separated and headed different directions. Pete, Sandy, Don and I stayed together through the afternoon, caught a great bluegrass and comedy show when we wanted to rest our feet (remember, we had been working all week, especially Sandy, who served on the Dream Team, putting together the conference), as well as riding on Indiana Jones, Pirates of the Caribbean (my favorite), and the Haunted House. We had a yummy and fortifying dinner here in the French Quarter.

We also took a cruise on the riverboat, Mark Twain, and saw this lovely replica.

Another view from the riverboat.

We felt very lucky to miss the rainstorms, have lots of laughs, and spend some down time with friends. Kayla and Amanda had to be escorted, along with the rest of their car, out the back way when Splash Mountain broke down, but the three of us had a great time shopping for gifts after Pete, Sandy and Don had gone back to our hotel. Then, they joined up with Kim, Morgan and Nick and went on Indiana Jones twice more as well as a few other rides. I cashed in for the night after the spectacular fireworks display (can you believe they do this EVERY night at 9:25 PM?).