Mystery Quilt Weekend
I haven't posted anything in a few days, but with good reason! I got to escape for Mountain Star Quilters' annual Mystery Quilt Weekend. MSQ is our local quilt club, based in Downieville, California. Although my bestest friends, Lynn and Peggy, had been members for years, I had resisted joining for a long time. After all,
knitting
was my passion. I signed on about five years ago, shortly after finishing my MA program, as I finally felt I had a little time for myself after two intense years of working and studying non-stop. I also had a small legacy from my father's death in 1998 to use to buy a new sewing machine and all the requisite tools. I have since also acquired a Singer Featherweight through Ebay for piecing.
A Mystery Quilt is presented in stages. First, you get a materials list several weeks before the event is scheduled, so that you can go shopping or raid your stash (yup, quilters have even bigger stashes than us knitters - one of my friends has a whole room lined with shelves, lined with fabrics arranged by color). You also do a lot of pre-cutting, so that you will be ready to sew, but have no idea of the finished design. This can be either freeing or frustrating, depending on the design and how much of a control freak you are.
I have done four mysteries in the past several years, but couldn't attend last year, and this year decided I would focus on getting the Hawaiian-style quilt I am making for my daughter, Nikki, moved along (This is the same sassy daughter who asked a few weeks back, when I was showing off yet-another completed knitting project to her, if I had "given up quilting entirely"). However, I had reviewed the directions with Peggy, and admired her choice of three fabrics in primary colors, determining that they would make a Provence-inspired quilt, and that the mystery looked to have a good outcome for the quilter, as there were only three main fabric choices, giving you the opportunity to pick fabrics that would look good no matter how they ended up combined.
We all met on Friday afternoon at The Helms' St. Charles Inn, the fabulous bed and breakfast owned by Mark and Tammy Helm, where our Mystery Quilt Weekend has been held for the past three years. (photo courtesy of the Helms)

. I didn't manage to get there till almost 9 P.M., thanks to two lengthy meetings in a row on the other side of the county, and the sewing was in full swing. I was totally burnt out and knitted on the second bolero sleeve, while admiring everyone's chosen color schemes and discussing knitting with Amy, who has just started. She was just starting a
cute little purse
in pink ribbon from Crystal Palace. It looks like I will have enough Trio left over from the bolero to make a matching purse in this pattern, free on their website.
I was able to unwind but not ready to tackle cutting around my stitched squares; afraid that I would cut in the wrong place because I was so tired. Didn't go to bed till midnight, but did get in a great walk with Lynn along the North Yuba... did I ever tell you guys that I live in the most beautiful place in the whole world?
I got started on my quilting project Saturday morning... I am making 12 large squares of appliqued Kapa Hawai'i designs, six pink orchids and
six purple plumerias
, all in batik flannels as Nikki requested. However, as I went to wash the beautiful deep purple batik fabric I had ordered around Christmas from
Keepsake
(now a sister company of my favorite online yarn supplier,
Patternworks
) I discovered that it was NOT flannel, as ordered. Sheesh, I guess I should have taken it out of the package when it came.... things just went downhill all day from there.
This pattern calls for stitching the pink fabric squares to preprinted fusible interfacing that has the design shapes already on it, then cutting a slit in the interfacing and turning all the design right-side out; nearly impossible to do until I drove back home and got a hemostat from my braiding supplies to poke out the corners and round the curves.
By evening, I was ready to cash it in, but my wonderful friends kept me going, giving me tips, encouragement, food and chocolate. I think I probably gained back the two pounds I lost this week, with all the gourmet food provided by my fellow quilters. Luckily, the club had arranged for
Laurel Boggs
, our favorite massage therapist and yoga teacher, to come and offer chair massages... at least I had some destressing time!
One of my worst moments came when Betsy and I were cutting side by side and chatting. She asked if I knew who in the club she could borrow a machine from that did satin stitch, so she could complete a machine applique project. We both had brought our Featherweights, which are piecing powerhouses even though Singer hasn't made them in years, and are in high demand amongst quilters. It dawned on me that my other machine, the one I would be needing shortly to machine applique my first orchid in place, was inaccessible, up at the house in Forest City, with the road blocked by snow for at least a few more weeks, and worse yet, I hadn't even thought about this obstacle till this very minute! Where was my head? What in the world had I been thinking?
I decided to adjust my expectations and accept that it just wasn't in the stars for me to get very much accomplished this weekend, but I was still getting to hang out with my homies here by the river. I proceeded to knit some more on the second sleeve and was close to binding off at the top of the cap when I realized I had too many stitches and had neglected to do the armhole bind offs.....sometimes it would be better to just hide under the covers and have the chocolate delivered.
While I was going through one disaster after another, my co-quilters were making steady progress and keeping up a flow of gossip and stories. We all got a lot of laughes out of Mary W. and Mary J. discussing going through their teens as Richmond home grrls....
Here is my first Orchid... laid out pre-stretching, pinning and pressing. Everyone was teasing me about making octopi, can you see why?

We all kept going till late in the evening on Saturday, with Lynn getting enough done on her's to get the final clue and realize what the finished quilt top was going to look like. I had already decided that this was a pattern I would probably like to make someday; looked like it would make a great wedding quilt if I could pick fabrics to match the person's decor. So, I gathered up all the clues to take home, and knew exactly what was to come (yep, I cheated!).
Lynn dug right in this morning, even though we fitted in another, shorter walk along the river, and was able to get her quilt top pieced together before she needed to leave to run the crafts cooperative shop this afternoon.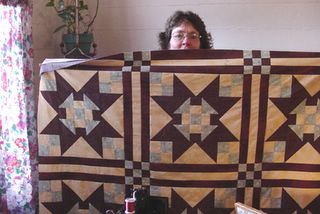 Here's Lynn, peering over her finished quilt top and saying, "Don't put me in the picture, I haven't had time to wash my hair!"

We made her go out and stand on the porch of the Inn so that we could snap pictures. It is much more powerful live and in person, with strong graphic lines and "presence". I was really pleased for her.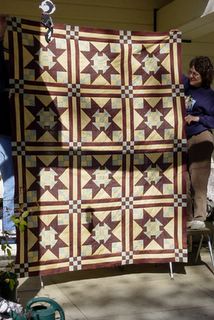 Lynn and Shelly had to stand on chairs to hold up Lynn's finished top; the mystery was entitled "The Case of the Patchy Churn" and the final pattern dubbed "Churning Stars". Lynn was the only one to get the entire top pieced during the weekend, and her's has a strong antique feeling to it. Other colorways were equally successful.

While those die-hards still at it were busy stitching, I was able to press out one of my pink octopi to look like a real quilt block. There IS hope that I will be able to complete this project and like it.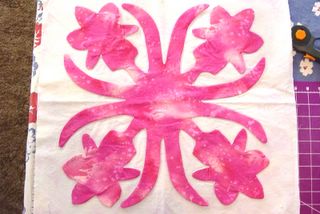 Here is my first Kapa Hawai'i Orchid block, pressed in place and ready for machine appliqueing.