A Trip to Big Springs
A few months back, Don Phillips, the creator and owner of
Big Springs Gardens
, located in Sierra City near here, made a creative and wonderful offer to our school in Downieville. He has channelled the large spring that emerges from his property through various creeks and ponds and worked to enhance and protect the natural mountain landscape into a fabulous garden, where he installed a restaurant kitchen and patio with seating to approximately 100 diners. He hosts special events such as weddings, as well as offering an array of fine dining including Sunday brunch and Thursday night bar-be-ques.
Don decided that he wanted to give something back to the community by hosting a natural history field day for our students from 3rd to 12th grades. Yesterday morning we all took the bus up the hill, where he greeted us with a full breakfast.
Don Phillips welcomes our group

Students gather for breakfast

Wildflower expert Julie Carville spoke about the value of spending time in nature.
Then, we divided into three groups to take guided nature hikes. I joined the youngest participants, and our group leader was Renee Smith, who works for the U.S. Forest Service at the Big Bend Interpretive Center.
Renee passes out hand lenses to our group

She really charmed our youngsters, giving them hand lenses and sending them up the hill in search of something special to stop and examine. They were instructed to walk silently, so they could observe better.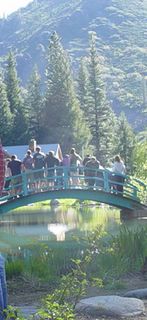 A group of students admires the view from the bridge over the main pond; Don's house is in the background

We gathered at the top of the hill to discuss their finds, which included a huge rock covered with four different colors of lichen, a tree stump left over from a lightening strike that was being eaten by ants, and various flowers.
Then, Renee instructed them to pair up, with one student being the photographer and one the camera. The "cameras" closed their eyes and were led to different objects to observe, by taking a brief "snapshot", opening their eyes for 10 seconds to make an observation. Each partner was to complete 5 photos before returning to the larger group. I am very fortunate to live where my students are often out in nature, and their interests and the details they picked up were very specific. They also enjoyed a game of "I Spy" working their way back down the hill and letting everyone know about unusual sightings, such as a tree shaped like a "U", from the weight of the snow when it was young. We returned to the dining patio and made drawings, with one 3rd graders writing a fine impromptu poem about rivers.
Don's crew served us a heavenly lunch, complete with bar-be-qued chicken, corn, cole slaw, fruit salad and brownie ice cream sundaes for dessert (I did settle for "just a brownie" while watching some of my high school students OD on the full two scoops of ice cream and chocolate and caramel toppings). We all "digested" while listening to Don speak about having a dream and how he came to the Sierras to build Big Springs.
Then, Denise introduced flower arranging to the whole group, and tables took turns gathering the materials needed to make their own arrangements to take home.
Denise helps students select their flowers to arrange

Cory, Fiona and Kayla work on their flower arrangements

By the time we had completed that project, it was mid-afternoon, time to thank Don and head back to the bus and the return trip to Downieville.
I greatly enjoyed the peaceful setting and the opportunity for all of us to take a breat from classwork together, while still learning and having a great time. We are truly blest to have such generous people in our community.