Rivers Approach Flood Stage
This is the most unusual May I can recall... not only has it rained far more than average, but the river is close to flood stage1 Wanted to share some pictures with everyone .....
This photo is looking at the Downie River as it approaches its confluence with the North Yuba; bridge to county courthouse in background. The town was built around both of these rivers, which look more like quiet streams most of the year, during the Gold Rush.

Upstream on the Downie River; businesses line the bank to the left and suffered flood damage in January 1997, as well as in 1963 and 1937 (not in May, though).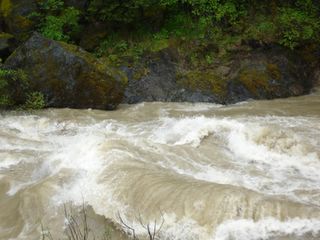 Here is an example of the huge volume of water generating waves as it travels over large, submerged boulders.

A good view of the raging river from Highway 49 west of Downieville

Lupines can be seen in the foreground in this photo taken in Indian Valley this afternoon.

The North Yuba flooded the lower campground at Indian Valley this afternoon, but the rain has diminished.

We are hoping that the rains are coming to a stop, as predicted, before the cresting creates flooding here.