Spring Cleaning
This weekend I have been trying to balance the need for getting some spring cleaning done, and the desire to see some of my projects finished up. So, I decided that a knitter, only rightly, must have her (or his) own personal style of spring cleaning, along with the usual airing out, sweeping up, and washing down of the house. A knitter also has a yarn stash that has gotten unruly and needs to be put back in order, and a stack of projects to be evaluated. It is time to switch from wearing heavy wool sweaters to cotton tees, shirts and crop pants. It is time to give up wool socks in favor of flip flops. Therefore, it is also time for the knitter to re-evaluate what to knit in the upcoming months. Switching to lighter yarns and smaller projects is usually essential in my Mediterranean summer climate. Sitting in the shade on a 95 degree day working on a large wool sweater or afghan just will not do.
But what to do with the unfinished projects? Luckily, there are only small wool projects waiting around for their turn with my attention, and one polyester blend shawl to finish. The largest wool project gets to have that first, so that it will be done before the real heat kicks in here.
I will continue to make small wool purses to felt, in fact I may be making a lot of them, depending on the demand at our local crafts cooperative. We get almost all of our tourists coming through between May and September. So, I wanted to finish up my latest.
All done, except for the felting!

I organized the yarns I have set aside for "store" projects, and here are three pair of flip flops waiting to get their fur trim. This only takes about 40 minutes a pair, so I am planning to finish these up over the next week. In the background is red mohair, a potential scarf, and light blue wool, a possible felted purse.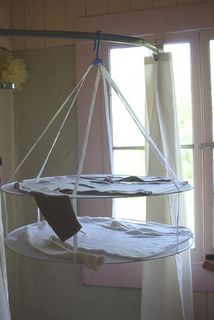 Part of cleaning was getting the laundry done. Along with airing out the rooms, I washed the bedding and other clothing, including a few sweaters. You can get one of these nifty double-sweater dryers to hang in your shower the next time you place a yarn order with
Patternworks
.

This is the bottom of a felted tote bag I want to get done in a month! It will certainly grow to be too big to knit on a hot day, and, besides, I want to take it with me as part of my luggage wherever I get to go this summer.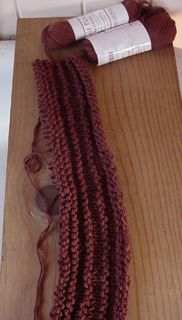 It will be striped, and in a brown/red/cream colorway. I "cleaned out" my stash to assemble an assortment of worsted weight wools, with a few novelties thrown in. Not shown are a couple of cappucino-colored skeins of Brown Sheep Nature Spun. I also bought enough medium brown Wool of the Andes from KnitPicks to make the bottom, top, and handles, adding a little consistency. The rest are either left over from past projects or thrift store finds.

Special thanks to
Lynette
for the suggestion of using your tub for a photo backdrop... we have an old clawfoot that has seen better days (in fact the outside is painted lilac with gold leaf feet), and my sweetie cut a special shelf to use across it when not bathing, which provided the backdrop for these shots. It helps that the light is really good in the bathroom.
I had to keep myself moving through the laundry cycles, and the animal care, but still managed to finally get around to finishing up the body of my second clog (the first one sure has been lonely!). I plan to put on the sole tomorrow night, and get my latest felted items into the wash.
The final score was: knitting 3 house 1. I resigned myself years ago to the fact that I would never be renowned for my housekeeping skills, so once again knitting wins.