A Tribute to Susan
This month marks the fifth anniversary of the death of my friend, Susan Lamela, at the age of 52, following a brief but fierce struggle against liver cancer. I wanted to dedicate a post to her, partly because she was such a unique person, and partly because of her contribution to my life.
I met Susan in the early 1990s. My (future) husband was working as an archaeologist with her husband, Hank Meals. Susan and Hank had already dealt with the issues of stepfamily and commitment that we were facing at that time, and served as mentors to us. Susan and her son came to our wedding, although Hank was away, because Susan believed that it was important for children to be a part of ritual.
Susan was a multi-talented and artistic woman, who loved to sew. She founded
Haute Trash
in 1983, a long-running fashion show in Nevada County, whose primary requirement was that all of the fashions must be created from recycled materials. Her fashionista name was Polly Ethylena. Ahute Trash is still going strong, putting on several shows a year throughout California; check out their website and attend a show for a rollicking good time.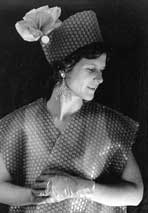 Susan, modeling one of her Haute Trash creations.

Susan was also an avid hiker, exploring so much of the back country in Nevada and Sierra Counties that she and Hank wrote a book about them, titled
Yuba Trails
.
This
news article from 1997 details their saga, and you can hear Susan's spirit through the words of the interview. In his period of grief after nursing Susan through her passing, Hank spent a year revising the book and
Yuba Trails:2
is widely available in Northern California.
It is always difficult to lose one's friends, especially earlier than expected, and most especially when they jazz up your life as much as Susan did. I still miss her.... hug everyone around you today in her honor.
Don't forget to enter my raffle contest; here's the
rules
.