On Sunday, my son Cody, daughter Nikki, and I attended the 9th Annual Italian Street Painting event sponsored by the Lake Tahoe Arts Festival. This year's venue was the parking lot at CalNeva, located right on the state line between California and Nevada. The artists generally had sponsors, who paid for their squares, and had three days to complete their chalk masterpieces. I have been strongly attracted to this art form for many years, after first viewing a program showing people producing such art on the sidewalks in Italy. It's the process.... but the art is fabulous, too, as you will see.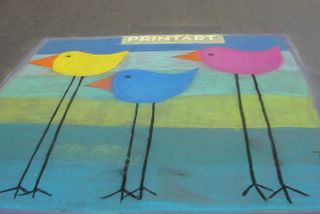 A nice, simple graphic design

A winter mountain scene, that shows some of the blending techniques used to create many of the chalk paintings. Jake's is a famous eatery that offers a bar and seating area on the shore, open only during the summer months. Cody worked there several years ago while in college, and they would jump in and take a dip during the afternoon lull between lunch and dinner crowds.

Artists had a variety of working styles, but umbrellas for shade at 6200 feet were favored, as were skateboards for low stools. Works that echoed the Great Masters were popular creations.

A close up of Madonna and Child

We took this photo for grandma Diana, who loves lighthouses and lives on the coast in Fort Bragg.



This painting of Yoda was one of our favorites.

We thought this was a cute theme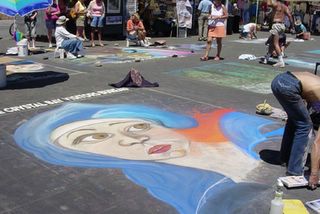 As you can see, many styles of painting turn up in these works.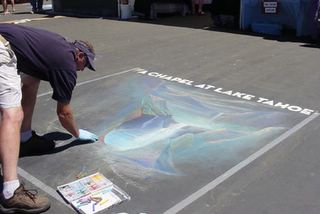 "Work in progress" must have a totally different meaning to these artists than what we knitters bring to mind.

There was also a great art fair and live music. I found a cute pair of earrings featuring a work of knitting on one and ball of yarn on the other! I also picked up a copy of the fall issue of Interweave Knits, although I don't want to think about giving up summer any time soon. There are a few things in there I might want to make in October.... check it out and tell me what your favorites are. I am sure someone is starting up a knit-along someplace already :)
Carolyn and others have commented recently on what a lucky life I have... I truly felt it spending the day with two of my wonderful adult children, in one of the most beautiful places I have ever been. While it is true that I am not rich or worldly, I have been fortunate to live in the Sierras all these years, touched by the energy of the mountains, and to be surrounded with good, creative people. I am also fortunate enough to realize my good fortune!
I hope everyone else is enjoying summer as much as I am.