Endless Meetings and Fast Scarves
I have decided that fast-knitting scarves are the answer to attending meetings. Pick a simple pattern, such as a drop stitch, which I have used to show off the pretty ribbons in three recent scarves. Knit and occasionally take notes. Try to ignore anyone sending you disapproving looks, and if you get harassed, whisper back that at least YOU are accomplishing something (that might not be appropriate if the meeting is connected to your job).
How did I reach this wonderful discovery? I attended three meetings in the past two days for different community organizations... the one on Wednesday seemed endless, stretching from 10 AM to 4 PM... there was a lot of ground to cover, some unpleasantries to bring up and some problems to try and resolve. Also, I got the distinct feeling that the planets simply weren't in proper alignment for harmonious communications, as twice tempers flared and threatened to set fire to the room... we were able to keep people from pulling out the verbal daggers, but I came home to family uproar as well, and we all usually get along pretty well around home.
I started a simple, narrow scarf out of
Knitpicks
' new ribbon yarn,
Sparkles
, and managed to finish it before our lengthy meeting ended, something I was totally unprepared for... no scissors with me to cut the ribbon, or I would have started a second one! I added fringe when I got home last night, and will place it in the shop on our Red Hat Society table. By the way, Sparkles was much easier to knit with than Eros, which I used for a similar scarf a few months back and had lots of trouble with it slipping off the needles. This time, I used a small circular, Susan Bates Quicksilver, which worked better than my bamboo sock needles with rubber end protectors on them. I also got a request for a similar scarf in a black, purple and teal colorway from one of the attendees!
I left the house with a skein of red and black Ranee (a thicker railroad yarn I got at Ben Franklin) and a skein of Red Heart Luster Sheen, which I had bought in red to make a scarf that would appeal to one of the Clamper Widders (I will have to do a post at some point to explain what the Clamper organization is all about; history, spoofing fraternal organizations, and partying sum it up in a nutshell). I started tbat scarf at the first meeting, and carried on with it at the second one, making very rapid progress (about halfway done). The meetings went well, too!
Today, I picked up some yarn from Ben Franklin for the scarf order... selected Lion Brand
Trellis
in Stained Glass for the ribbon, because it was as close to the colors requested as I have found through my Internet and catalog snooping.. and added DMC Crochet Senso in black metallic to balance the colors requested... I have never worked with this before, but was intrigued. It is 45% cotton, 45% acrylic, and 10% metallic, so will add luster as well. I took the new purchase with me to my shift at Mountain Harvest Crafts... our local crafts cooperative in Downieville... no, there is not a web presence yet, simply because I am the only one offering to create it, and I haven't had a chance since joining a month and a half ago. I AM supplying pictures:
This display table gives a good representative example of the variety available at Mountain Harvest at any given time. It doesn't show the fact that there are now about ten quilts available in different sizes.

Here is our Red Hat Society table... my contributions are the small felted purse hanging at top right, the fur-trimmerd sandals, and the red and purple scarf dangling below the hats on the left.

We also feature jewelry from two artists, Leslie Austin and Danielle Cochran... this photo shows Leslie's bracelets, earrings and necklace/earring combos. Danielle also works with glass beads, adding wirework, and made the fabric and bead corsage pin hanging from the wall.

Another pair of furry flip-flops, a basket of my crocheted hair scrunchies, a knitted gnome made by Beatyanne, and behind him, rolled-up bread basket liners in an assortment of lucious fabrics.

While at the shop, I did finish up the scarf I started at the meeting and started the stained glass one... I am also including a progress update on the enormous striped duffel bag. It is now, finally, ready to be felted. I completed the fold-down tabs that will button the side pockets closed last night, and really, truly only need to felt it. Oh joy!! I might even realistically be taking it with me to Black Sheep... had about given up hope.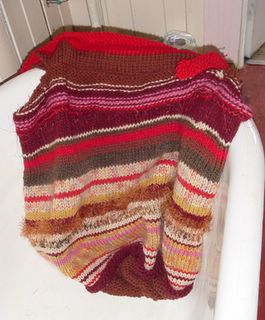 I know once I felt this, I will forget just how enormous it turned out to be pre-washing... so here is a testimonial shot. I have the bag draped over the edge of my tub, with the flaps (brown) and pocket tabs (red) up at the top... it is truly huge, almost as big as a knitted skirt I made about ten years ago! I will be felting it over the weekend, so the next photos will probably look more like a useful object and less like a large splattering of wool.