Switching to Summer Mode
This is the big switcheroo week that disrupts my life every year... you think I would have learned to adapt! Each year school ends with a bang, two graduation events, grades due, etc. At the same time, I begin to gear up for my summer job as an outdoor guide for our county's Wilderness Challenge program, taking youth between the ages of 8 and 18 camping, hiking, kayaking on our local lakes, backpacking and rock climbing. You can expect to see photos of our activities soon, and this year will be a banner year for wildflowers, thanks to the high volume of rain we have been getting (as in, yes, again today!). Just to cheer myself up on this unseasonably cold, dreary (June?) day, I am providing you with some photos from the past few summer seasons... yes, Birdsong, there really is such a thing as summer, and it really is just around the corner!
Kayla and I on a rock climb outing at Lake Tahoe

Here is a group fishing.

Our group paddling on Lake Tahoe last summer. We kayaked from Rubicon Bay to the boat-in campground at Emerald Bay..... for me, the ultimate summer vacation.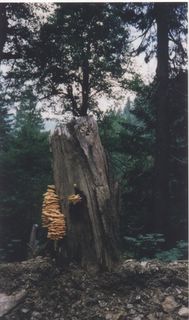 Tree mushrooms

On the knitting front, I am closing in on finishing my traveling bag, just in time to get it felted and take it to the Black Sheep Gathering with me. Got my camping and class confirmations last week and made my train reservation. I am SO looking forward to a fiber fest with fuzzy wool animals, fellow knitters, yarns to buy and, of course, food to eat... and please, some summer weather for a change.