We Have a Winner!
First, I want to thank everyone that wrote to enter my contest during the month of June. I really appreciate knowing you are out there, and that sometimes you even enjoy what I put together. My son called me mid-way through the Black Sheep Saga, and said maybe I had gone overboard, but blogging is part communication with fellow knitters and part online scrapbook for me... he told my daughter later "You know, don't you, that Mom really is just a little bit crazy!"
I am glad to share going off the deep end sometimes with all of you, but, unfortunately, there can only be one winner, as there is only one prize. Jenny will be getting the pink and grey sock kit. Many congrats, and answer that email and send me your address and your prize will be on its way: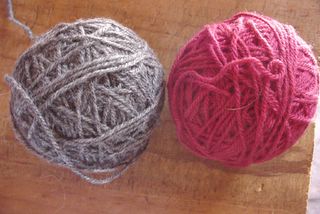 These are the two colors of HIFA sock yarn in the kit; a very pretty color combo

I have been low on energy all week, and didn't get much done besides work. I did want to share photos of the two scarves I made while traveling on the infamous Amtrak and hanging around at Black Sheep, and also show a close up of one of the fancy markers I found there (I also picked up a set of 6 beaded pink glass ones - in my current favorite color, no less).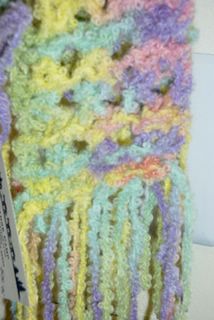 This is a close up of a narrow scarf I made from alpaca boucle I found the first day of Black Sheep... had to start something with it right away, and put it in the crafts coop today.

This vintage-look scarf is made from GGH Gracia (the fluffy, pink poly-nylon-rayon) and trimmed with Crystal Palace Little Flowers (rayon-nylon-metallic). Everyone watching me work on it had to touch it and comment on how super-soft it was. The trim helped enhance the black slubs in the Gracia, and add a little extra bling-bling.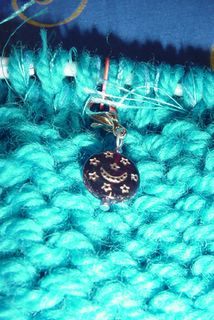 I found this cute little marker at the show, and wanted to take a photo to show my jeweler-friend Leslie (who doesn't have a blog yet) so that she can make some up for our shop. It is attached to a turquoise purse-in-progress that is a special order using
Elann
Peruvian Highland Wool and Trendsetter Eyelash.

I have also been working on a black scarf as a special order for Leslie. We are trading; she is studying up on making me a shawl pin, since I can't seem to find one I like... I think it will be heart-shaped and copper.
Have a happy and safe holiday weekend, sharing with family and/or friends and relaxing at the height of summer.