Small Treasures
Today is a "craft store" day for me, meaning I am trying to work on items to put in the coop shop, in between loads of laundry and other household duties. It is very hot this afternoon, and a good day to be working in the cool house. I thought I would share photos of some of the tiny treasures you can find at our shop.
First, two tiny sweaters decorating my bay tree. Beatyanne makes these, and even though I have a pattern, I know I don't have the patience. She sells them at our shop for $4.95 each, even though we have all begged her to at least double the price. You can write me about getting a few for your bay (or Christmas) tree.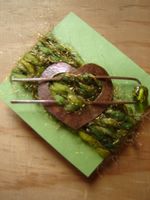 Next, a beautiful shawl pin, designed by Leslie, who provides us with a great selection of jewelry,favoring glass and stone beads and pearls.

This is Leslie's first "pennanular" shawl pin (I have
Sallee
to thank for getting that term correct). She researched and designed it at my request, in exchange for the black sparkly scarf I knitted for her daughter earlier this month. It is hammered copper with a green glass bead on its "hairstick", and you could convince her to make more of these, in a shape of your desire, either copper or brass, for around $25. (Shamelessly promoting my friends here, but that's what friends are for).
And, here is what I have been working on... angora baby booties.

I have finished the red pair, have the teal blue in progress, and need to make up the green angora and a pair in charcoal alpaca, left over from a couple different scarves. They go fairly quickly, about an hour and a half a pair, and the design is from
Last Minute Knitted Gifts
.
I have also been working on a design for a felted cell phone pouch, modeled after the cute neoprene ones for smaller, fold-up phones I am seeing in the stores this summer, with an I cord handle and button arrangement so you can take it on and off a larger purse, backpack or briefcase. I sorted out some yarns to begin knitting up my prototype later this week. Once I get the pattern the way I want it, I will post it here.
Now, don't start sympathizing with my DD, Nikki... tomorrow we are attending a lengthy training, where the front of her tank top will move briskly toward completion.
Happy Sunday!