Hot August Nights
Living in the Sierras biases a person against wanting to attend large events in big cities. The beauty of the mountains, together with the peace and quiet, lack of traffic, and generally laid-back atmosphere all conspire to have a lulling effect, making things going on even twenty miles away, seem unimportant to the bliss at hand.
However, we made an exception this weekend, since our two nieces were going to be visiting Glenn's brother Dave at his newly-purchased home in Reno. Dave also wanted me to come over and see the place, and help him alter his acquired landscaping by digging up and hauling home the rose bushes. I am a sucker for roses, so we stopped and got five gallon pots, a spading fork and two cubic yards of potting soil at the nearby Home Depot, but the roses took a back seat to
Hot August Nights
. This event began in 1986 to help promote tourism to the Reno-Sparks area, and has gotten HUGE. It now lasts five days, with multiple venues for the hundreds of cars that officially register to "show and shine", and there are two main "cruises", open periods in the evening where a portion of the downtown in each of the adjoining cities is closed and the classic cars cruise around the block, to the delight of visitors... with up to 5000 car entries from 1972 or earlier, there is an amazing assortment to see.
There are now several major locations, with craft shows and live music and other entertainment at each, all day and into the night. There is also a grand parade on Sunday morning, although we skipped that part. We went to Victorian Square in Sparks, where Dave's company, PC Doctor, had a V.I.P. table reserved on the grounds of the Silver City casino, with the promise of free food and drink. Since we couldn't have dinner till 5:30 P.M., we wandered around checking out the cars and the crafts, and got caught in a summer thundershower. The Reno-Sparks area is high mountain desert, and of course, water only comes in buckets, so we had to find places to stay under cover for the hour or so of intermittant rain.
That didn't keep my DH Glenn and niece Jamie from having a good time....
Glenn and Jamie chasing each other through the fountain... we all got wet anyway from the afternoon thundershower.

I found this way cool necklace, featuring five (the exactly correct number) donkeys, at the crafts show.

After eating, it was time to watch the cruise... and we tried to find a place to stand where there weren't any large puddles left. Luckily, the rain stopped about an hour before the cruise started.
This is an example of the detailing featured on many of the customized classics attending Hot August Nights.

This one had a terrific paint job and a flame-shooting exhuast system... a real crowd pleaser. The folks standing below us were holding signs saying "Rev It Up"!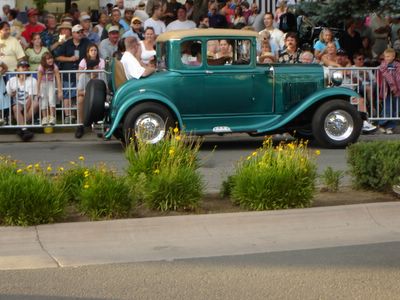 Very cute!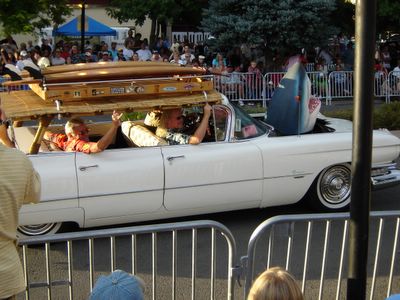 This was the most unique car we saw during the cruise... a shark head emerging from the engine compartment, custom palm tree upholstery on the inside, and, of course, aging surf bums in Hawaiian shirts riding inside with their antique boards on top. Being a California grrl, I just loved it!

We ended the night by celebrating Alison's 14th birthday.

I did get some knitting done, in fact about eight inches of the body of my Berrocco Cotton Twist tank top are now completed.
Sallee
is moving right along with her shawl. In fact, if I knew how to make and post a button, I would start a Cotton Twist KnitAlong... there are already two of us, so give me a shout if you want to join, or can help me solve the technical problems so I can make a Cotton Twist gallery of photos this week. Happy Knitting!