I'm a Published Author!
Yippee! I'm in print! My article for the latest issue of
Take Back the Knit
, about charity knitting, is the first knitting-related article I have submitted and gotten published (I have had lots of other articles in print, but never made any money at it, so that is why I work three jobs:) I was pretty proud to get my author's copy in the mail yesterday.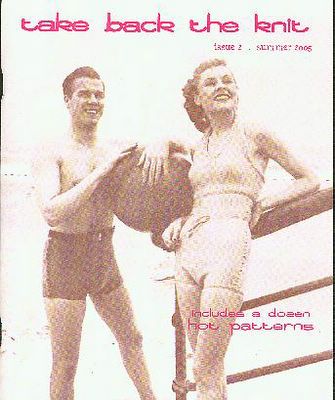 Look what
Jae
has done!

This issue continues with the theme that got her started on a knitting zine in the first place - how knitting builds community. Her's has certainly grown, as there are contributors from all over Canada (she publishes in Toronto) and U.S., and she discusses how the online community has grown and supported each of us as well. The feature articles include Hand-Knit Community, Before There Was Stitch and Bitch, Vegan Knitting, Hop On, yo:, Six Reasons Why, Organic Yarns, Knitting for Strangers (me) and Knitting and Breast Cancer.
There are also twelve unusual patterns (including a felted buttonhole tote bag, fingerless gloves, restraints, a bicycle saddle cover, flip-flop socks, and a knitted boob for "fashionable fibre floozies who have lost (a) breast(s) to cancer") and a color back cover illustrating the Kool Aid dying process that accompanies a tutorial on color, and another tutorial on using circulars instead of DPNs to knit in the round... well worth getting, and you can find out how to order
here
. I am working on something to submit for the winter issue, and you could too... it is great fun to see yourself in print, help build knitting community, and support independent publishers like Jae (not to mention she offers great recipes for free regularly on her blog!).