Summer Afternoon
Summer afternoon.... the two most beautiful words in the English language.
Henry James
This quote came back to me as I was lying on the gravel beach next to our favorite swimming hole, looking up through the leaves. What a lucky life to have such a chance... I was feeling stressed out and like my life was too crowded, and asked for some time to enjoy my favorite things about summer, and got them all, within a few hours and a few miles' radius of our Forest City home.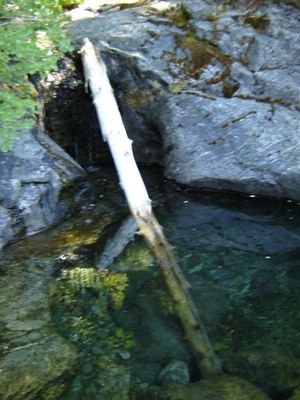 First, our friends Dave and Ginny showed up unexpectedly, having celebrated their 33rd wedding anniversary in Nevada City, and we took them on a short hike to visit Rowland Falls, which doesn't have much water falling at this time of year. However, this tiny, cold pool at the top lasts all season.

Dave beat Ginny and I to the top and thought it would be funny to "seed" the pool with some gold... fool's gold, that is! Nice piece, all the same.

After our friends headed home to Artois, we decided to go swimming in Oregon Creek.

I took along some reading, including my new issue of
Take Back the Knit
, and read about vegan and organic yarns, and dozed a bit in the shade after a brief swim (the water never really warms up at this hole, but it is private and peaceful)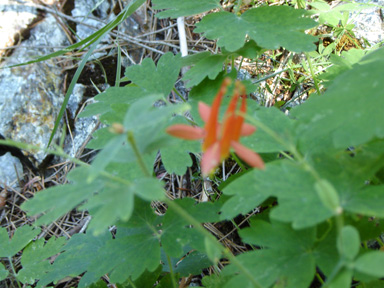 I was happy to see that there are still a few wildflowers about, including columbine, shown here, although my camera annoyingly decided to focus in the distinctive ferny leaves rather than the red blossom.

This is Indian Pink, a lovely little flower that blooms all summer long near the water.

You can see my afternoon resting place in the right foreground in this photo. I managed to get friends, water, flowers, greenery, shade, swimming, reading, and (pretend) napping all in this afternoon, just as if I were having a real summer vacation.... now, it's back to work tomorrow for a very hectic week. Blessings, all!