As The Hem Turns
I have been greatly enjoying making something for myself... a winter hat from a pattern and yarn I bought at
Black Sheep Gathering
back last summer. The pattern was designed by Brenden Enright, owner of
Curraheen Icelandic Sheep Farm
, while the brown wool is from
Elemental Affects
, Judith MacKenzie's Shetland yarn coompany (although the website says "sport", the Rustic that I have is working up the same as a worsted). Maybe some of you saw their booth at SOAR...
I am having a delightful time with both yarn and pattern. The pattern mimics some of the most popular beanies found in snowboard shops right now, using a band of knitted cotton blend yarn instead of polarfleece, which is sewn in the commercial hats. I used the Sunsette yarn I featured in this week's Product Review for the band, starting with that portion... then switching to the Shetland and making a decorative band. Once I had knitted the same length of Shetland, it was time to join the hem together.
Ready to start the hemming process... the violet yarn will be the itch-free inner band, and the brown yarn is some lovely Shetland wool, the lower portion of the hat. I will pick up each cast-on stitch and knit it together with each stitch on the needle, to join the two with the violet ending on the inside.
A shot showing one stitch of Shetland and one stitch of violet rayon blend about to be knit together... I decided to photograph and feature this hemming technique because I am using two distinctly different yarns, on purpose, and it makes the photos much clearer. Don't you just love my plaid jammies?!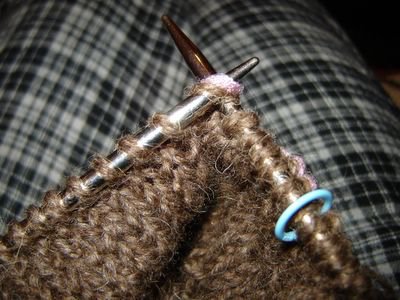 Viewing the partially joined hem from the inside.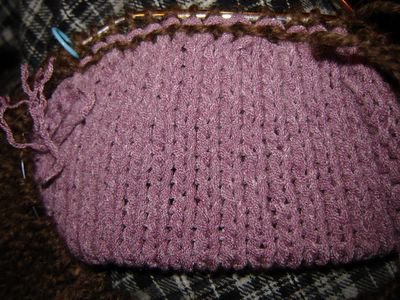 Here is the bottom of the hat, once the hem has been completely joined, and a few rows knitted... you can see the violet peeking through the decorative bobble/eyelet section. Pretty slick, eh?
I think I am going to be pretty happy with this hat, and will make a second one for my DS, Cody. I still have three other hats to crank out, maybe this weekend, as well as more Cloths for Katrina. The batch of washcloths I have almost ready is going to be heading to Mather AFB, in Sacramento, where the local Volunteers of America chapter has refurbished former officers' quarters into temporary housing for refugees... what a great example of reusing/recycling. I may need to take a break from charity knitting soon, though, as lace is still calling my name, and I haven't given it the attention it is due.... ready to start turning that lovely alpaca yarn into something.