Black Sheep Saga
I promised a great tale of our expedition to the Black Sheep Gathering and here it is... I just worked through a few dozen pictures, some rejected, but it promises to be a long and colorful tale. I boarded the
Amtrak
in Sacramento at 1:30 A.M. last Thursday (at that point, the train was only 1 1/2 hours late), and settled down to try and get some sleep, after waiting for over two hours in the train station. Luckily, my dearest friend in the world, Laura, had taken me out to a terrific Vietnamese/Buddhist restaurant for a feast in the early evening, and I had knitting (worked on a hot pink tank top you will hear more of later).
The Train Trip
I am an early riser and sleeping on a train is better than in a plane, but somewhat like in a hospital, with frequent disruptions. I had only been awake a short while at the wee morning hour of 5:30 A.M. when a redhead walked by... it was Randy, looking for a place to make a cell call. We chatted and I learned that her group of eight were one car behind me... but it didn't matter as we pretty much all migrated to the observation car and claimed a chunk of seating by mid-morning, where we spent the rest of the trip.
Most of Randy's group are members of the Spindle and Flyers Spinning Guild, well established in San Francisco (you can support them by visiting their
Cafe Press
store). Out came the socks, shawls, etc. to fill the time, as we learned that the train was now four hours behind schedule. There was breakfast in the dining car, secret treats brought out to share, and the warm sunshine of summer pouring down on the beautiful Oregon countryside.
Nancy weaves the ends in on her cashmere shawl that she was bringing to enter in one of the competitions, while Randy knits on a sock, which you can see in the reflection in the window.

Nancy models her cashmere shawl, based on a pattern in
A Gathering of Lace
. Now, first you have to know how very sorry I am that you cannot touch this luscious creation. Then, I have to point out, that making such a shawl would be an awesome feat for any of us, but Nancy also spun every bit of the cashmere herself, and went on to win a second place ribbon in the Accessories - handspun color fiber category. She is my idol.

I had been knitting away on my simple cotton tank top, and getting to know fellow teacher, Laura, when she looked at my knitting and said, "Is that for you?". To my reply of yes, she responded, "That is way too big for you", something my DD has frequently said to me while out shopping. I dug out my measuring tape... looked at the pattern. I was right on gauge, and had thought I should be making a medium, but it was going to be much bigger than the medium I wanted. Time to get out the pencil, do some math and some ripping... someone expressed shock at my ripping out the whole four inches of a circular top, but I quipped that I would probably have it knitted back up to the same spot before we got to Eugene... turned out to be prophetic.
I know that some of the people traveling with us on the train really didn't think it was as idyllic as I did. I was on vacation, relaxing among fellow fiberholics, engaging in stimulating conversations, while others were getting anxious about the delays, debating whether to leap off at the first opportunity and rent a car. However, if you have the time, the train is one of the finest ways to travel. There is the wonderful food served up with great flair in the dining car; white tablecloths, shining silver and cloth napkins are a sharp contrast to the ubiquitous fast-food restaurants that crowd the exits of our interstates. The route frequently travels through completely undeveloped parts of the country, only now and then dipping into stations in small to large towns. We were able to get off the train for about ten minutes in Klamath Falls, the first true stretching and fresh air in about 12 hours of travel.
One of the reasons for the freqent delays became clear to us as we pulled over into sidings again and again, only to have a freight train pass us. Amtrak leases the segments of track from other railroads, and the California/southern Oregon segments do not have a very cooperative relationship between landlord and tenant. Once the train gets behind, it is more likely to encounter additional freight trains it must yield for, making it later and later.
I also appreciated how much more social train travel is... many passengers were striking up lively conversations in the observation car, or over the meals, where the tables had to be filled up, and you ended up sitting with strangers and getting to know them. I met two young girls and one mom, on their way to Portland, where the girls were diving competitively. The woman and I had a great conversation about education.
The scenery was incredible. It was impossible to get good pictures, but after several tries, I captured Mt. McGloughlin, towering over Klamath Lake outside of Klamath Falls. The scenery was so awesome riding in the observation car.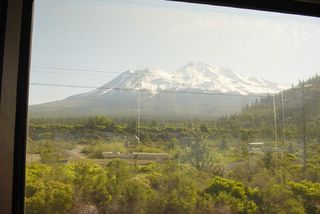 An Inspiring Woman
Later, I met Ruth Weiss, who I want to share with my readers. She was a diminutive woman, from Albion, on the Northern California coast, an artist and poet. She was heading to Seattle to visit friends and celebrate her 77th birthday. She is also something of a celebrity, being one of the people interviewed for
Women of the Beat Generation: The Writers, Artists and Muses at the Heart of a Revolution
by Brenda Knight, published in 1998. When a friend of a friend learned she was coming to Seattle, he booked her to do a performance of poetry reading set to jazz music, which she has been creating for over 50 years. I felt very lucky to have met her, and spent several hours in conversation, and I know that we entertained her and made traveling alone a lot less boring.
Unexpected Love Affair
One of the first things I did after we got our camp set up was to visit the animal barns. I fell in love with these little Shetland sheep, and spent much of my time at the gathering learning about them and pondering bringing a few here to live with the burros. I was fortunate enough to end up sitting next to a sheep owner during the Shetland competitions, and he was kind enough to answer all of my questions. The Shetlands are about one third smaller in size than most other breeds, produce an array of colored wool, have affectionate and inquisitive natures, and just plain seemed smarter than the rest. Now, I am sure someone will write me to differ; please remember to be nice about it.

This is Earnette, who raises sheep in Northern Oregon, waiting to hear the judge's reaction to her ewe, which (I believe) won 2nd place in a class of about 15, all born during the 2004 season.

Our Class: Sock Machine Knitting: Different Yarns, Different Settings
Some of you will recall that what drew me into this trip in the first place was Randy letting me know that there was a day-long workshop on using the circular sock machine. Saturday morning dawned overcast, but we didn't have much time to worry about whether it would rain, as we had to hurry off to our class. Randy had packed her machine, but I had rented one, unsure whether I would find one to purchase in time. We set up and worked diligently all day, with a two-hour lunch break built in to encourage us to shop with the vendors at the main show. Susan Forsyth was our able instructor, and hailed from British Columbia. I loved her accent. She demonstrated how to make a sock without ever removing your ribber, and knew plenty of other tips and short cuts. We were very excited.
Here, you can see the outline of the picot hem (dangling out of the sock machine) which we learned to construct in our class.

After our lunch break (during which I walked five blocks to Albertsons to get food for the evening potluck and had the ATM eat my card; I'll spare you all the gruesome details of that story, but my bank said they were protecting me from potential fraud), Susan spent a lot of time showing us how to trial different yarns in order to find the optimum range of settings for the machine. It was scientific, fascinating, and similar to making gauge swatches (meaning "essential for success").
I got the method down, and also wanted to practice making a heel, a portion of the sock machine process that had me intimidated so far. I had been doing terrifically well, but as I was trying to put on the last few rows in order to get my sampler off the needle, tiredness set in and with it mistakes; overall, I gained so much from the class and Susan sent us home with several patterns, a recipe for magic oil to use, and so many tips.
I also purchased two speciality tools that her husband has devised, set in beautifully turned woods. He was busy demonstrating at the
Woodland Woolworks
booth, where his line of
wool combs
were featured. (NB: Woodland Woolworks is for sale, as the owners want to retire; if you have been hankering to move to Oregon and open your own yarn shop, here's the chance of a lifetime, as they are idolized amongst the spinning community in the Northwest and will be sadly missed.)
Randy is getting some fine personal instruction from our excellent teacher on making a heel.. notice how only part of her needles are in the up position.

Here, Susan is coaching this lovely couple from Healdsburg, north of San Francisco. Luckily, Randy took down their names and contact info, so that we could have a Northern California crank-in later this summer, along with Bud from Gualala. They also offered to bring me some of their Shetland sheep, as they are ready to give up caring for a flock, but one of their daughters is very anxious that they find good homes (i.e., NOT the meat-packing plants). That offer seemed to confirm that Shetlands are in my future.

Meeting Another Legend
For several years, I had read about the ongoing development of a cotton plant that would grow in color, as well as be disease resistant enough to allow it to be produced organically. Normal cotton production results in the heaviest pesticide use in the U.S. The real pioneer in this field is
Sally Fox
, the developer of
FoxFibre
, and it just so happened that she was camping with us! She was the sweetest person, and also the mother of the youngest one in our group.
Meet the lovely little Marcella, who is assisting her mother at the Foxfibre Organic Cotton booth... she is sorting out the labels while Sally is weighing out cotton roving. Foxfibre has been bred to grow in color, and no pesticides are used.

The luscious celadon green is cotton roving; the magical thing to me was learning that, when boiled, the yarn turns a deep olive green. In front is natural cotton roving, and off in the back is a brownish gray merino wool roving from Sally's flock, which she is now trying to breed to produce colors that match the cottons, so they can be blended into yarns... I am anxious to see if she can produce a green sheep. She is such an amazing woman that nothing would surprise me!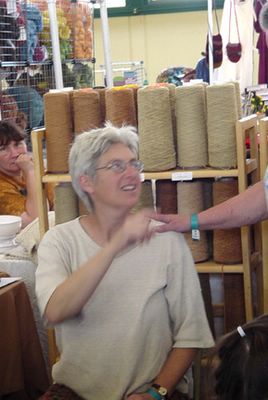 Sally, with some of her organic cotton yarns on the rack behind her. Sally and Marcella were camped with our group of fifteen women at the fairgrounds, and I really felt for her, trying to work and tend to her daugher at the same time. I ended up working about three and a half hours for her in trade for some of these wonderful organic cottons, so that she could go out for ice cream, visit the animals, and generally keep a four-year-old happy.

The Sheep Lead
This woman was one of the first entrants in the Sheep Lead, a competition that is one of the highlights of Black Sheep. Each entrant is modeling something they made from the spinning stages to completion, in the past year since the last gathering. They also have to come up with an animal wearing the same fiber to "lead" through their walk. We wanted Nancy to enter her cashmere shawl, but nobody had brought a cashmere goat she could borrow!

This is an angora goat wearing a blanket made from mohair, and being led by a lead that is two colored mohair strand twisted together. The owner was also carrying a doll with mohair locks, and wearing other mohair accessories to demonstrate the versatility of the breed.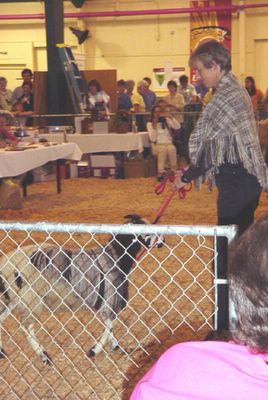 This is Robyn, wearing a woven shawl made from Jacob sheep handspun, as is her sheep escort.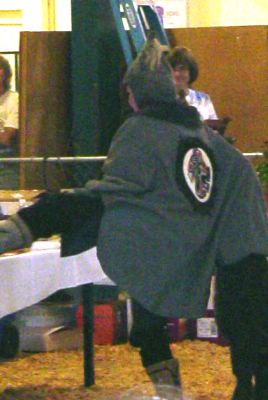 I wasn't able to do justice to this entry... they are a pair of hand-felted boots that won a few prizes during the weekend. The creator is wearing a hand-felted hat, and also needle-felted the great applique on the back of her capote. Her outfit is designed to wear to re-enactment events in the dead of winter.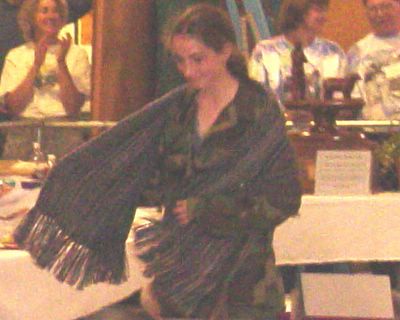 The last segment of the Sheep Lead was presenting the five entries in the Sheep to Shawl contest and granting awards to the winning teams. Each team had begun at 9 AM on Friday, spinning and weaving a stole which had to be completed by 2 PM the same day. Pre-planning was allowed, but all work had to be done by the team during the five hours of the contest. All were well-done, and it was amazing to watch the process and the coordination. My fellow campers have done this (it has to be the equivalent to running a marathon for those in the spinning and weaving world). Erin is modeling one of the entries... I had wished she was assigned the one in jewel tones of greens and purples against charcoal natural wool, as it would have matched the camo jacket better.

But What About the Shopping?
I haven't spoken much about my own finds. That is because being part of such a vibrant, multi-species fiber culture for four days was much more impressive to me that the personal finds. All of us kept getting more and more charged up. Randy's daughter Erin, and Sylvia's daughter, Marge, both 13, got spinning fever, and could be found spinning every spare minute, even into the dark. Erin had lent her wheel to one of the Spindle and Flyers members, Elaine, who was picking up her own at the gathering. It was as if she had been reunited with a long-lost relative... she stayed busy spinning up silk dyed in various shades of blue. Others would return to our encampment to knit or spin and relax.
Three members of our camp were also vendors: Sally, who I mentioned above,
Robyn
, who had brought some of her Jacob sheep and was taking a turn at the Jacob Sheep association booth as well as trying to sell a few lambs, and Darlene, of
Hand Jive Knits
, who produces custom hand-dyed fingering yarns for socks and other projects, as well as some very creative patterns. I bought a beautiful variegated yarn from Robyn, a bulky handspun that she had overdyed to take advantage of the subtle shading yarn from colored sheep produces. I also bought a heart purse pattern from Darlene and began knitting it on the way home. Somewhere along the way, I picked up a beautiful alpaca to make a Clappy from, in shades of pinks and yellows... this is what I had been looking for all spring, but never located. I bought a spring colorway alpaca boucle from the same grower and made a narrow scarf to put in the shop while visiting during meal times at our campsite.
On Sunday, I made the rounds and finished up several other purchases for my business: bright colored skeins of Elsebeth Lavold's angora for baby booties, a terrific beanie pattern from
Curraheen Farms, producers of handpainted yarns spun from Icelandic sheep
, featuring the innovation of a hem, with a cotton inner band to prevent forehead itching, yarn to make this hat for my son, and moorit-colored Shetland for another hat from
Elemental Affects
, a small producer working to make Shetlands available from U.S. producers, reducing import costs. I also bought a jacket pattern from her, having admired the model of it, and so did Randy, after winning enough of this yarn for the jacket in Saturday night's raffle. Erin was more excited that the raffle grab bag they won contained the glass, glow-in-the-dark sheep earrings she had been coveting all weekend. I learned that I could get wool commercially spun for me at the
Yolo Wool Mills
, only about 100 miles away, if I did decide to get my own flock of Shetland sheep.
I also met
Galina Khmeleva
, author of several books on Orenburg lace. She was so encouraging, saying that lace will continue to come to me if I let it, and I bought her book, The Gossamer Webs, and some wonderfully soft antique white alpaca from
Lost Valley Alpaca Ranch
, in Dexter, Oregon (are you noticing a theme here? Yes, alpaca is probably my most favorite fiber, mostly because I can wear it right next to my skin, which I can't do with most wools). I will work up to those designs! Galina had admired my Foxfibre crop pants and went back to buy some for herself from Sally.
I have spent a lot of time telling you about these wonderful purchases, not to brag so much as to encourage you to follow the links I have put together. The best part about shopping at Black Sheep was that I was meeting and connecting with the people responsible for my finds. Almost everyone I have described is a small producer, trying to make a part of their living by working with fiber. Please support them if you can.
Homeward Bound
The time had come to depart... the tents were down and bags stuffed with treasures. I have to admit that when I realized I could still close my suitcase easily, I went out and bought more yarn. I found enough Patons Classic Wool for a gift felting project at half-off prices from Sheep To Shawl, a northwest yarn shop, as well as a skein of cotton/wool to begin the heart purse on the train.
Randy, Erin and I took a cab to the train depot, where the train was only running 45 minutes late, so we were able to have a truly wonderful dinner at Lilith's Lair, a spot that Erin picked out because she liked the name. The food was all organic, and I was able to get a grass-fed burger on a spelt bun. Eugene also has high environmental standards, which is refreshing. We still had an hour wait after dinner, but adjourned to the train with our group of nine travelers in high spirits. Laura proceeded to set up her spinning wheel, just to prove it could be done.
She is spinning a beautiful purple and fuschia silk, while the poor victim who got a new seatmate in Eugene sat crocheting.... we also met Pam on the train, who had been at the gathering Saturday, and was an artist specializing in Chinese brushwork, as well as a beginning spinner. She was excited to have so many brains to pick.

We talked and worked late into the evening, then did the best we could to sleep on the train. I also began reading
Zen and The Art of Knitting
, which I had purchased from Woodland Woolworks.
By morning, we learned that the train was about three hours behind, and once again we took up residence in the observation car to knit and spin. I finished a second scarf for the shop and started on my heart purse. It isn't a hard pattern, but would be better done at home alone than while chatting on the train :)
Erin and Marge, spinning together while northern California whizzes by outside the window.

Erin and Marge had drawn a crowd of observers when I took this photo on the train, just before we got detained on a siding so that a stretch of track could be inspected for damage. Never a dull moment....

I was relieved to arrive in Sacramento about 11 AM, almost 5 hours late, but sad to part with my new-found friends, who had all taken me in, even though we had never met. Those who knit and spin turn out to be very grounded, tolerant, warm people and I feel so lucky to have had such a great vacation. Now, to knit up all these new projects.