CONTEST! CONTEST! CONTEST!
I have decided to hold a contest through the month of June for my faithful readers. Those of you who are sock knitters will be particularly interested, and, by all means, encourage other sock knitters you know to participate. Anyone leaving a comment on my blog (and a way to recontact you if you win on June 30th) throughout the month of June will be entered in a drawing to win this really cool prize:
This pattern was written by the famous Priscilla Gibson-Roberts, author of
Knitting in the Old Way
.

Several years ago, at the height of my prolific sock knitting career, I ordered this "Birken-Socks" kit from
Norsk Fjord Fiber
. The hardy wool yarn, called HIFA sock yarn, is enough to complete a rose and grey striped pair of hiking socks. The pattern icludes directions for what she calls an "hourglass" heel, and is 2 by 2 ribbing, which makes for a stretchy, well-fitting sock.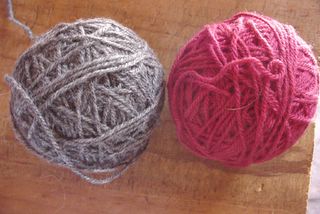 These are the two colors of HIFA sock yarn in the kit; a very pretty color combo

I was curious about Priscilla's pattern, which she claimed would be a better fit. However, knitting up the pattern produced a very tight fabric, which was very hard on my hands to knit up. I hated the tiny metal needles (size 0 or 2 mm, although most normal people, who don't knit as loosely as I do, would use one size up, size 1 or 2 1/4 mm, if you don't want to have to think about it), as I had always used bamboo ones to make socks, and kept poking myself with them. It became a battle, and eventually, I put the whole project away, never to be taken up again. Now, I don't mind admitting I am defeated, but another knitter will be able to become the victor.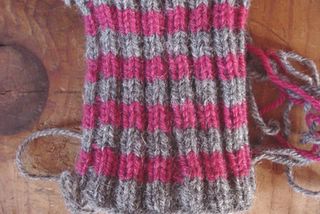 This photo shows how far I got before throwing in the towel, but doesn't show the evil teeny needles, although the cuff will come on them.

I am raffling off the whole kit, with instructions, as well as the ridiculously tiny needles. If I were to do it all over again, I would buy the same size in bamboo; they are much easier on the hands to use. Although, if I am going to be really honest with you, I have decided to master the Circular Sock Machine, or knit a looser weave sock for the next hand-knitted pair. Good luck.
CONTEST RULES:
1. Contest starts June 1, 2005.
2. Contest ends June 30, 2005.
3. To enter, post your request to be included as a comment on my blog or send me an email to birdsong_s@hotmail.com
Simple, isn't it!
I am really excited. I found this chair at our friends, Will and Jeannie's shop, The Attic, which opened two days ago in Downieville, as well as the plant stand to go with it. The blob/bag is sitting in it, and I was too, until a pesky mosquito chased me off. The french doors in the background open from our bedroom onto our fenced, inner yard, and this chair will spend the rest of the summer providing me a place to sit and knit in the shade and enjoy the view from our back porch... I feel like I am in heaven.